Welcome to my website, 365 Days of Slow Cooking!  I'll help you get acquainted with my site.
Thanks for stopping by!
First off, thanks for stopping by.  I know you are busy and there are a lot of demands on your time. Thanks for spending a few minutes here.  I hope you'll take a minute to click around and familiarize yourself with my recipe blog.  It is a great resource for slow cooker recipes (and other stuff too).
I've been blogging since 2009 (more about how I got started here) and have over 1000 recipes on my blog!  I know there are plenty of recipes on here that you and your family will love.  If you have a question and want to contact me directly the easiest way is by email (karenbellessa[email protected]).  I'll try to answer as soon as I can!
Get all my new recipes sent to your inbox. Sign up below!
Are you the "I don't cook" type of person?
Don't worry! The slow cooker is easy enough that most anyone can use it. Here are some of the easiest recipes I have.  With very few instructions and ingredients these are great recipes to start with. (click on the picture to get the recipe)
For more EASY ideas check out all my recipes with 5 ingredients or less here and 100 slow cooker recipes for college students
Are you looking for my most popular recipes?  
These are the recipes that have been the most popular over the years:

Check out the most popular recipes from:
Are you looking for my personal recommendations?
There are some recipes that I'm constantly making.  They are the recipes I keep coming back to for whatever reason.  Maybe they're super easy.  Maybe my family loves them.  Maybe they make me feel healthy.  I hope they'll become your personal favorites too! (click on the picture to get the recipe)
I like to share tips on my site like cooking in the slow cooker if you're going to be gone all day and out of the box ways to use your slow cooker and you won't want to miss the Working Mom's Ultimate Guide to Dinner
What kind of slow cooker do you recommend?  I personally own several different slow cookers but my favorite is a 6 quart oval Kitchenaid slow cooker.
Where can I buy your cookbooks?  If you'd like info on my cookbooks and how to buy them go here.
Lastly, for a behind the scenes look at what I'm doing you can follow me on Instagram.  My latest thing is making cooking videos with my kids and husband.  If you'd like to see all of those make sure to subscribe to my YouTube channel.
Again, thanks so much for stopping by!  Sure do appreciate it 🙂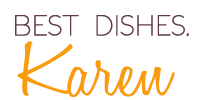 P.S.  And also you should probably join all the foodie fun on Twitter, Facebook and Pinterest!