Happy New Year!
I hope you all enjoyed your holidays immensely. Besides getting really sick for a few days, I definitely had a great Christmas. What's really fun for a geek like me at this time of year is to look at my blog stats from 2014 and see what was popular. Some of the recipes that are super popular surprise me a bit and some do not. It's always interesting for me to see what goes viral and what falls flat.
Here's to 2015 and hoping that it's the best year ever!

Without further ado, here are the top ten 2014 recipes:
10. CrockPot Chicken Fajita Rice Bowls

9. Creamy Basil Pesto Hummus Zucchini

8. CrockPot Coconut Rice and Beans

7. Crockpot Chicken Tetrazzini

6. Slow Cooker Zupas Wisconsin Cauliflower Soup

5. CrockPot Creamy Chicken Quinoa Broccoli Casserole

4. Slow Cooker Parmesan, Sausage and Kale Soup

3. Crockpot Korean Beef Lettuce Wraps

2. Slow Cooker Tortellini, Spinach and Chicken Soup

1. Slow Cooker Chicken Enchilada Soup

And although these aren't an individual recipe these were my four most popular posts from 2014:
CrockPot Freezer Meals

12 CrockPot Recipes for Soccer Night

Slow Cooker Summer Recipes




And my number one post of 2014 was this one! Random!
6 Things You Should Be Buying at the Dollar Store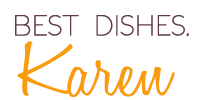 P.S. Thanks so much for making this blog successful! Tell your friends about it! Share it, pin it, like it, blog it!