One of the most frequent questions I get asked is, "What kind of slow cooker do you use?" and "What kind of slow cooker should I buy?"
Well, I have tried several slow cookers and they all have their unique features but I'm currently crushing on a KitchenAid slow cooker.
Watch the video to find out why! (Make sure to subscribe to my YouTube channel to be alerted of all new videos I post).


Kitchenaid 6-Quart Slow Cooker with Solid Glass Lid is currently available on Amazon for somewhere around $69-90.
The model that I showed in the video with the flippy lid is currently unavailable. But really the lid is just a bonus. The most important thing about the slow cooker is that is creates juicy and tender meats because the temperature is pretty much close to perfect. The control panel is bright and intuitive. It has fun to push buttons and noticeable beefs to alert you to changes. Cool to the touch handles are a bonus too.
If you'd like to see all of my slow cookers and what I think about them visit here.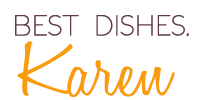 P.S. In the market for a new slow cooker? Find out what features you should be looking for!