2013 was a GREAT year for 365 Days of Slow Cooking! I was able to create many more easy, tasty slow cooker recipes that hopefully found a place on your dinner menu. It always surprises me when I look to see which recipes have made the top 10 list. Some are my favorites and some are not necessarily what I would have chosen.
Happy New Year, friends! Thanks for following my blog!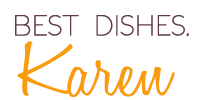 P.S. Join in all the fun on Pinterest!