A delicious and light soup flavored with lemon rind and lemon juice.
Makes 6 servings
Ideal slow cooker size: 4-5 quart
4 boneless, skinless chicken thighs, trimmed of fat
6 cups chicken broth
1 bay leaf
1 grated carrots
1 diced onion
1 diced celery ribs
2 minced garlic cloves
1 tsp ground thyme
1 Tbsp dried parsley flakes
1 Tbsp olive oil
1 Tbsp grated lemon rind
1/4 cup fresh lemon juice
1 tsp salt
1 cup orzo
Salt and pepper to taste
Parmesan cheese, for serving
1. Place chicken, broth and bay leaf in bottom of slow cooker.
2. In a microwave-safe bowl place the carrots, onion, celery, garlic, thyme, olive oil and parsley. Microwave for 5 minutes, stirring every 90 seconds. Transfer contents to slow cooker.
3. Add in the lemon rind, lemon juice and salt.
4. Cover and cook on LOW for about 5-6 hours.
5. Cook orzo over the stovetop until tender (if added straight to the crock, it will soak up a lot of liquid and make it a little weird).
5. Remove the chicken thighs and shred. Then return chicken back into slow cooker. Add cooked orzo into the slow cooker.
6. Stir and then add plenty of salt and pepper to taste.
7. Ladle into serving bowls and then top each bowl with about 2 Tbsp Parmesan cheese.
Adapted from The Girl Who Ate Everything
Review:
Ever since my neighbor brought over a big jug of orzo I've been thinking of fun ways to use it up. When I saw this recipe I was instantly intrigued because lemon is such a great flavor and I love lemon chicken. The soup turned out great and I had my mother-in-law for dinner that night. She loved it as well. It is pretty light and is perfect served with a slice of bread and a side salad. 4 stars.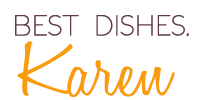 P.S. Make sure to join in all the foodie fun on Twitter, Facebook and Pinterest!