Hi All,
Get all my new recipes delivered to your inbox
by clicking here
(about 2 emails per week).
To me, there are few things that are better than fresh, juicy peaches! Unfortunately, there are only a couple of months a year that we can experience the joy of peaches. Let's take advantage of these summer months and eat as many ripe peaches as possible.
This 3-ingredient recipe for slow cooker peach cobbler is not only incredibly easy it's also super delicious. You're going to love how you can enjoy the delicious taste of cobbler this summer without having to turn on your oven. The slow cooker can be really awesome in the summer...no heating up your kitchen. All the heat from the slow cooker is really kept to the pot. (I do feel that this recipe would translate well to the dutch oven...give it a try when you're camping and let me know what you think!).
*Updated recipe with new pictures July 2013
Recipe for 3-Ingredient Slow Cooker Peach Cobbler
Recipe for 3-Ingredient Slow Cooker Peach Cobbler
Makes 8 servings
Cooking time: 2-3 hours
6 large peaches, peeled and sliced (this will seem like a lot of peaches but believe me, you won't regret it)
1 white cake mix, unprepared (you can also use a yellow cake mix if you prefer)
1/2 cup butter (1 stick), softened
1. Place sliced peaches in bottom of slow cooker
2. In a medium bowl, combine the cake mix (unprepared) with the butter. Cut the butter into the cake mix with a pastry blender (or fork or potato masher) until crumbly.
3. Sprinkle cake mix mixture over peaches.
4. Place paper towel or dish towel on top of slow cooker and seal with slow cooker's lid. Cook on HIGH for 2-3 hours or on LOW for about 4 hours.
5. Serve with vanilla ice cream.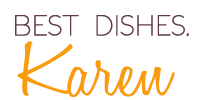 P.S. Try these other great slow cooker desserts! (click on picture for recipe)