For some reason I am obsessed with the
Mexican Rice and Black Beans
that I made last summer.  I could eat it for breakfast, lunch and dinner all by myself until it's gone.  I decided to keep the recipe pretty much the same but swap out the brown rice with quinoa (you could also use orzo).  It turned out wonderfully!  I sliced up some avocado and enjoyed this until it was gone.  This is a wonderful light summer recipe that I paired with a fresh fruit salad and a green salad.  Yum!  I will definitely be making this again.  5 stars.
Recipe for Slow Cooker Mexican Quinoa and Black Beans
Recipe for Slow Cooker Mexican Quinoa or
Orzo and Black Beans
Makes 6 servings
Cooking time: 2 hours
1 or 2 (14 oz) cans of black beans, rinsed and drained
3/4 cup uncooked and rinsed quinoa or orzo
1 1/2 cups water
3/4 cup salsa
1 bay leaf
1 tsp cumin
1 tsp salt
1/2 tsp garlic
Salt and pepper
Lime juice
Avocado slices
1.  Add beans, quinoa (or orzo), water, salsa, bay leaf, cumin, salt and garlic to the slow cooker.
2.  Cover and cook on HIGH for about 2 hours.
3.  Remove lid and fluff quinoa with a fork.  Remove the bay leaf.
4.  Add in fresh lime juice to taste and salt and pepper to taste.
5.  Serve topped with sliced avocado.
Watch a video of this recipe being made here!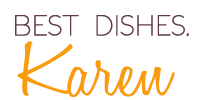 P.S.  Do you like quinoa?  Try these other quinoa recipes too!
Looking for more slow cooker meatless recipes?