A creamy and flavorful dip that begins with dried black beans and garlic cloves.
I love creamy refried beans and I've made them in the
slow cooker plenty of times
. I love black beans too and decided to make a creamy refried beans version of black beans. These beans came out looking like chocolate pudding and I even tricked my kids for a few minutes. Ha ha! I like this dip warm but you can definitely serve cold, if you prefer. We use this dip for tortilla chips, spread it on tortillas and sprinkle with cheese and even use it to thicken up tortilla soup. I hope you like it as much as we do!
Slow Cooker Hot Black Bean Dip
Makes 15 servings
Ideal slow cooker size: 3 quart
Cooking time: 8-10 hours
1 cup dry black beans
1 Tbsp Shirley J Vegetarian Chicken bouillon or 2 Tbsp regular bouillon granules
1/4 cup dehydrated onion flakes
7 garlic cloves, peeled
1 tsp kosher salt
1 bay leaf
Lime juice
1. Rinse beans and place them in the bottom of the slow cooker.
2. Fill the slow cooker with water, about 2-3 inches above the beans.
3. Add in bouillon, dried onion, garlic cloves, salt and bay leaf.
4. Cover and cook on LOW for 8-10 hours or on HIGH for 4-5 hours.
5. Strain the liquid into another dish and discard the garlic cloves and the bay leaf.
6. Pour strained beans into food processor or blender. Puree. Add liquid in as needed. Add in lime juice (I used about 1 tsp) to taste.
7. Serve as a dip with tortilla chips or in the place of refried beans.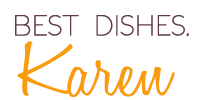 P.S. Do you love beans and dip? Try these other recipes from my blog:
And these from other bloggers: