This recipe for Easy Slow Cooker Lasagna Casserole is so super simple that you'll probably never make actual lasagna again. With all those layers and all those dirty dishes, it just isn't worth it (most of the time). I love that the noodles do not need to be boiled before adding them to the slow cooker. The hardest part of this is browning the sausage (and if you're smart you'll have this already browned and ready to go in the freezer). This is also a great recipe to add in your favorite veggies, like spinach and mushrooms or peppers and sauteed onions…whatever you like!
Recipe for Easy Slow Cooker Lasagna Casserole

Makes 6 servings
Ideal slow cooker size: 4 quart
Cooking time: 3-5 hours
1 (24 oz) can or jar of your favorite pasta sauce
1 lb turkey sausage or Italian sausage, browned and drained of grease
8 whole wheat lasagna noodles (each broken into 4 pieces)
1 green pepper diced, optional (mix it up with whatever fun veggies you want to throw it!)
1 cup ricotta or cottage cheese
1 cup shredded mozzarella or cheddar cheese
3/4 cup water


1. Add pasta sauce, sausage, broken noodles, pepper, ricotta and water to the slow cooker. Gently stir to combine.
2. Cover and cook on LOW for about 3-5 hours, or until noodles are cooked through.
3. Sprinkle with cheese and turn slow cooker to HIGH. Cook for another 10 minutes, or until cheese is melted.
4. Scoop down deep with a spoon and serve.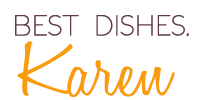 P.S. Join me on my facebook page for all the fun and interesting things going on (food and otherwise). Right now I'm deciding on how to paint my kitchen cabinets. Which one do you like best? The picture on the top left is my kitchen currently. I'm looking to brighten up the space by painting the cabinets white/cream.