Um, these enchiladas rocked my world.  They were so absolutely perfect that I wouldn't change a thing.  They are definitely worth the work, I promise!  I used slow cooker shredded beef but you could easily substitute chicken or pork, if you prefer.
I love cheesy, gooey, meaty enchiladas.  And I must say that the most important part of the enchilada is a really good enchilada sauce.  I love the taste of tomatillos so much…they are tart, sweet, earthy and really delicious.  So for these enchiladas I made a homemade tomatillo salsa for the enchilada sauce.  I promise, it's easy…don't be scared.  You can make these!
Tomatillos look like little green tomatillos.  They have a brownish husk that will need to be removed. Then just wash the tomatillos and slice them in half.
You'll add the tomatillos to your blender or food processor with some cilantro, red onions, jalapeno and kosher salt and pulse into the consistency that you desire.
For the meat, I used shredded roast beef (minus the bbq sauce) that my husband and daughter made in the slow cooker. This recipe is so easy that even a kid can do it!  Here is a video of them cooking up the roast beef.  If you don't want to use beef you can easily use this chicken or you could use some shredded pork
(To see all "so easy" videos visit and subscribe to my YouTube channel!)
After the beef has cooked for several hours (ours took about 9). Then you'll just shred it up and use it for your enchiladas.  This recipe is great to make on a day when you have already cooked beef, pork or chicken in the fridge or freezer.
Print
Shredded Beef Enchiladas with Green Enchilada Sauce
---
Author:

Cook Time:

30 minutes in the oven, 2 hours in the slow cooker

Total Time:

0 hours

Yield:

6

servings

1

x
1

lb tomatillos, husked, washed and sliced in half

1

jalapeno, seeds removed

1

garlic clove, minced

1/4 cup

diced red onion

1 tsp

kosher salt

1 cup

cilantro

1/2 cup

sour cream

4 oz

cream cheese

2 cups

mozzarella cheese

(or other cheese of your choice),

divided

2 cups

cooked, shredded beef (I used this recipe minus the BBQ sauce) or pork or chicken

6

(8 inch) tortillas (I used whole wheat)
---
Instructions
Combine tomatillos, jalapeno, garlic, red onion, salt, cilantro in a blender or food processor. Pulse several times until it gets to your desired consistency (mine was not pureed totally, a little chunky).
In a separate bowl, combine the sour cream and cream cheese.  Whip until it gets really smooth and creamy. You may want to use a hand mixer.  Stir the cream cheese/sour cream mixture into the tomatillo mixture.
Add 1 cup of the tomatillo/cream cheese mixture to the shredded meat.  Add in 1 cup of the cheese and stir it in.
Scoop the mixture evenly into the middle of 6 tortillas.  It will be about 1/2 cup of the mixture in each of the tortillas.  Roll up the tortillas and place them in a 9×13 pan (if baking in the oven) or the bottom of a slow cooker (if using the slow cooker). Pour rest of the tomatillo/cream cheese mixture evenly over the top of the rolled up tortillas.  Sprinkle the remaining 1 cup of  cheese over the top.
Bake in the oven at 375°F for about 30 minute, until cheese gets bubbly.  Or bake in the slow cooker on LOW for about 2-3 hours or on HIGH for 1-2 hours.
Recipe inspired by Low-Carb Green Chile Chicken Enchilada Casserole by Kalyn's Kitchen
Other enchilada recipes from around the web:
Creamy Spinach and Cheese Green Chile Enchiladas by Two Peas and Their Pod
Chicken Enchiladas Verde by Simply Recipes
Best Chicken Enchiladas Ever by Gimme Some Oven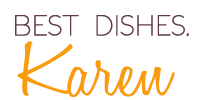 P.S.  I love this crock-pot!  The insert can be removed and used in the oven.  I like to bake in the oven and then keep it warm in the crock or vice versa.  So convenient for enchiladas, breakfast casseroles, or lasagnas!