Happy Fun Friday!
I posted a picture of my Green Chile Cheesy Rice Bake recipe on Instagram and asked if you'd like to see it for Fun Friday. The answer was an overwhelming yes! This is a recipe that my husband and I have been making forever. I haven't shared it because it's just one of those recipe that we make when don't know what else to make. With only 5 ingredients, we all love it and it's just a last minute type of recipe. You can make it all in a skillet or if you prefer to make it as a casserole in a 9×13 pan.
This picture was just snapped with my phone so excuse the lack of artistry. This is a great recipe to make when you have cooked rice left over from a previous meal. Even if you don't have cooked rice you can easily make minute rice in 10 minutes. We always use the minute brown rice for a little extra nutrition.
Green Chile Cheesy Rice Bake
Makes 6 servings
1 lb ground turkey sausage
(or other kind if you prefer)
2 cups cooked rice*
1 1/2 cups salsa or picante sauce
(mild, medium or hot)
2 (4 oz) cans green chiles
1 cup shredded cheddar
1. In a large skillet, brown the
turkey sausage over medium high heat. Drain off any excess grease.
2. Add in the cooked rice, salsa and
green chiles.
3. Stir and heat up the rice and
salsa.
4. When heated through sprinkle the
cheese on top and serve when melted. Alternately, you can pour the rice,
turkey, salsa and chiles into a baking dish (I use a 8×11 glass dish) and then
sprinkle the cheese on the top. Bake for about 10 minutes in a 400
°F oven and then serve.
*We like to use the minute brown rice and cook it while the sausage
browns. I've also
substituted
orzo and it was really
yummy as well.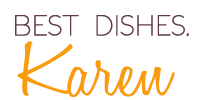 P.S. Make sure to join in all the foodie fun on Pinterest!
Visit Karen Petersen's profile on Pinterest.