Did you know you can make caramel sauce in the slow cooker with only one ingredient?! This is an amazing trick that you'll be all the better for knowing. And the best part is that it is so super simple that ANY body can do it! I first posted this recipe in 2009, but I felt that it needed to be resurrected from my archives. After all, we all could use some more caramel in our lives!
I like to use this caramel for an apple dip. Oh man, if you really want to get crazy you mix some peanut butter into the caramel for an AMAZING apple dip! Or bananas, or pretzels, or marshmallows…you get the idea. You can also use this caramel to marble into some brownie batter for a yummy gooey caramel brownie. The options are endless.
Recipe for Slow Cooker Caramel Sauce
Ideal slow cooker size: 3 quart
Cooking time: 4 hours on high or 8 hours on low
1 can (14 oz) sweetened condensed milk
1. Remove the paper label from the can of sweetened condensed milk
2. Place the unopened can on its side into a slow cooker. Fill the slow cooker with water until it is 1-2 inches above the height of the can.
3. Cover and cook on HIGH for 4 hours or on LOW for 8 hours.
4. Turn off slow cooker and carefully remove the unopened can with a pair of tongs. Place in the refrigerator and chill until ready to serve. Open the can and stir up with a spoon. If needed, you can thin out the caramel with a little bit of milk. Add one tablespoon at a time and stir until it gets to desired consistency.
5. Use as a dip for apple slices or serve over ice cream (or use however you want).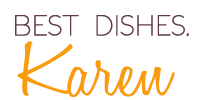 P.S. Make sure to join in all the fun on Facebook…right now I'm hosting a flash giveaway!