Have you ever been to a football game or the mall and all of a sudden you smell this intense cinnamon scent and you realize you can't go on until you try the cinnamon almonds that have made you stop in your tracks?
Me too. But then I see the price and think "WHAT?! I'll just make them at home." And now you can make them at home too. In the slow cooker. And it's easy. And your house will smell amazing. And if you're feeling really generous you can package them in cellophane and give them to your neighbors as Christmas gifts (I've included a cute gift tag in this post! Scroll down to print it off, no color printer needed).
Warning: these are addictive. Generally, I don't really care for nuts but these are really really good and I have to tell myself "Karen, you can only have 5 almonds and then you have to put them on the top shelf of the pantry." And then I put them on the top shelf but that doesn't really stop me, does it?

To make these cinnamon almonds, the first thing you'll want to do is separate two egg whites from the yolks. It's not hard, but you will get your hands a little dirty.
You'll just gently crack the egg on a flat surface and pry the egg shell halves apart. Hold the halves upright and let the egg whites run off into the bowl.
Then you'll transfer the egg yolk back and forth between the two egg shell halves. You'll let the egg white slide off into the bowl below. If you want to keep the yolk you can place it in another bowl. For this recipe, we will just be using the egg whites.
Then you'll get out a hand mixer or a whisk and whip up the eggs until they get foamy. This took maybe 2 minutes with my hand mixer.
This is what the consistency will look like…foamy but not yet meringue consistency.
Next you'll add in almonds. I bought a large bag at Costco. They are just the dry roasted almonds with sea salt.
You will fold the almonds into the foamy egg whites and some vanilla. I used 4 cups of almonds but I feel like you could go to about 5 cups and be okay.
You'll want to coat each almond as much as possible. This egg wash is what's going to hold the cinnamon and sugar onto the almonds.
In a separate bowl you will mix brown sugar, white sugar, a bit of salt and cinnamon together.
Then you'll pour the sugar mixture onto the egg/almond mixture. Coat all those almonds as much as possible with the sugar. Then you'll add the almonds to your slow cooker. I cooked mine on high for about 2 1/2 hours (you can also cook on low for 4-5 hours). I went ahead and stirred my almonds every 30 minutes. I was just at home and set a timer for myself so I wouldn't forget. This way the almonds get broken up and get coated evenly with the sugar. If you stir thoroughly they won't stick as much to the bottom and sides of the slow cooker.
After they are cooked in the crockpot you'll pour the almonds on to a parchment lined pan. At this point I broke up any remaining chunks of almonds and let them cool and dry out (I didn't want to wait so I put mine in a 200 degree oven for 15 minutes and then let them cool). When they were completely cooled I stored them in an airtight container. As long as they are stored this way they should be good for several weeks.
Print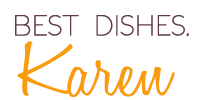 P.S.  Check out these other great ideas for neighbor gifts this year:
Christmas homemade hot chocolate gift jars from 365 Days of Slow Cooking
10 Handmade Neighbor Gift Ideas from TidyMom
Holiday Neighbor Gifts from Our Best Bites
50 Neighbor Gift Ideas from I Heart Naptime