One of my very favorite dinners growing up was "lemon chicken." It remains one of my personal favorites to this day. It is a pan cooked chicken breast that has a buttery lemon sauce. My whole family loves this chicken and we can't get enough!
Happy Fun Friday! (the day of the week that I post about non-slow cooker stuff)
There are only a few dinner recipes that I make that aren't in the slow cooker. I've just gotten too lazy to cook in any other way. One recipe that still remains that is not in the crockpot is this delicious Lemon Chicken Scallopini. It is tender and full of flavor. I'd be proud to serve this chicken to company. We like to eat ours with a rice pilaf or potatoes (mashed or baked). We usually serve it with a side of roasted broccoli as well.
Recipe for Lemon Chicken Scallopini
Makes 4-6 servings
Prep and cooking time: 25 minutes
1 1/2-2 lbs boneless, skinless chicken
breasts
1/4 cup flour
1 1/2 tsp smoked paprika
1 1/2 tsp garlic salt
1/4 cup butter
3 Tbsp water
2 Tbsp freshly squeezed lemon juice
1 tsp chicken bouillon
1. Slice the chicken breasts into
1/2 inch slices. You'll want all the pieces to be uniform so they can cook evenly. Dry off each piece of chicken with a paper towel.
(If the chicken is not dried, it will not brown).
2. Heat stove to medium high heat.
In a large pan, melt butter over medium high heat. While butter is
melting, mix together flour, paprika and garlic salt in a bowl or pie tin.

3. Dredge the dried chicken pieces
thoroughly in the flour mixture. When butter is melted and heated drop
the chicken pieces in the pan. It should sizzle a bit but not be popping.
Brown the chicken on each side for 5 minutes each. Don't crowd the
pan and make sure each side gets browned.
4. Remove the chicken from the pan
with tongs (it won't be cooked through) and place on a plate. Stir water,
lemon juice and bouillon into pan. Loosen brown particles on bottom by
breaking them up with a wooden spoon.
5. Add chicken pieces back into the
pan and spoon broth mixture over the top of the chicken. Let cook for about
2 1/2 minutes over medium heat on each side (I gently turn the meat with
tongs). The sauce will thicken a bit. Remove chicken and place on
serving platter. Serve chicken with a rice pilaf or potato side dish.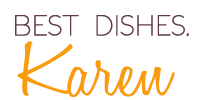 P.S. Make sure to join in all the foodie fun on Facebook!