For me, this is the best breakfast casserole thing-y I've made in my slow cooker to date. The seasonings were dead on and the use of the Greek yogurt gives it something a little extra. I also used pepper jack cheese instead of a usual cheddar. It gives it a bit of a kick and ups the flavor.
I hope you enjoy this as much as my family and I did!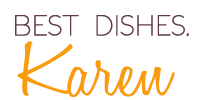 P.S. Make sure to join in all the foodie fun on Twitter, Facebook and Pinterest!