What do you usually have for Thanksgiving dessert? Pie? Something besides pie? If you're looking Thanksgiving dessert ideas here are some good ones! They make me want to reach inside my screen and take a bite!
Can I tell you how much I love Thanksgiving? It is seriously such a great holiday and I so appreciate it every year! Here's the dessert spread from our last Thanksgiving. Yeah, I know. We are a little crazy. But we own it. Also, it's not just a few of us eating all of this, it's like 50+.
One of my VERY favorites last year was this chocolate raspberry silk pie. Oh man, I could eat that whole thing by myself.

Here's my sweet Grandma and kids and I. We sure love Grandma! She is such a neat lady. Mom of 11 kids and almost 90 years old.
And just so you can see a little bit of the chaos that happens here is a video of when it's pie time!
Now on to the recipes!
If you're in charge of helping with dessert, consider some of these awesome treats. They are all winners in my book:
Individual Brownie Peanut Butter Trifle Cups–these little cups are perfect to the taste and they look so cute too. I love the idea of individual dessert cups.
Salted Caramel Pie from Favorite Family Recipes
Emily from FFR says, "If you love salted caramel chocolates, then this Salted Caramel Pie is going to be your new favorite pie. My husband is not a big dessert person, but he loves candy and chocolates, this pie is perfect for him because it isn't fluffy, or cream filled, or fruity. Just rich, chocolate, caramel goodness." Um, yes Emily I do believe this will be my new favorite pie!!! WHOA!
Slow Cooker Cranberry Apple Crisp–free up oven space and use your slow cooker for dessert on Thanksgiving! I love the tartness of fresh cranberries and the crumb topping is the best, isn't it??
Turkey Cookies from Tastes of Lizzy T's look almost too adorable to eat–almost. I'm pretty sure my lack of patience in decorating cookies would make me a failure if I tried to make these but all you talented folks could do it, I'm sure 🙂
Pumpkin Eclair Dessert –this dessert sounds fancy but is seriously so easy to make and almost impossible to mess up. If you're too scared to try making a real pie crust, try this dessert instead!
Lemon Mousse Pie from Completely Delicious--I love the tart taste of lemon but I'm not really a fan of meringue. I'd rather just have the lemon part of a lemon meringue pie. This, lemon mousse, however looks absolutely perfect.
Pumpkin Chocolate Chip Cookie Bars with Cream Cheese Frosting–if you love pumpkin cookies you'll love these bars. And the fact that they have cream cheese frosting makes them 100 times better than regular pumpkin cookies!
Millionaire Bars from Barefeet in the Kitchen
Mary says, "Millionaire Bars begin with crisp buttery shortbread, then they are layered with chewy caramel and dark chocolate. I could probably stop right there and you'd be convinced to make these bars." Yes, yes you did convince me. These are on the list, Mary!!
Heath Bar Brownie Trifle–whenever I have to make a dessert for an occasion my daughter requests this brownie trifle. She even had it for her birthday instead of cake. I can't say I complained because in my opinion this dessert is 100 times better than any birthday cake I've ever eaten.
The Great Pumpkin Pie Recipe from Sally's Baking Addiction…Okay, I must tell you that I'm not a fan of pumpkin pie. To me, it is just a mediocre dessert and I would way rather have chocolate. BUT I know there are many of you out there that love pumpkin pie and to you it simply wouldn't be Thanksgiving without it. This recipe from Sally looks absolutely perfect. She is an incredibly talented baker, so I would trust this recipe if you're going to go the pumpkin route this year.
Three Layer Peanut Butter Pie--this pie has become a staple at our Thanksgiving feasts. It is really the best pie to me in the world. Lots of steps but seriously SOOOOO worth every minute spent making it. Try it, your guests will think you're the bomb!
Marshmallow Brownie Pie from Cookies and Cups.
I can just tell from looking at this pie that I would love it. Rich, dense, fudgy and perfect for an indulgent holiday like Thanksgiving!
Peach Cobbler Pie from Completely Delicious–I'm a fan of all things peach so to see peach pie and peach cobbler in one dessert pretty much gets me pumped up.
Pumpkin Dump Cake--If you want to go the easy route this Thanksgiving this dessert will be your winner. It's made in the slow cooker too, so that's a bonus!
If you're scare of pie crust I bet this post on how to make the perfect pie crust every time by Baking with Blondie will help you out!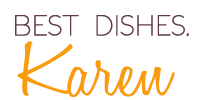 P.S. Follow my pie board on pinterest for more great Thanksgiving dessert ideas!