I love all the flavors in this recipe for sour cream chicken taco filling. It's super simple and a family favorite. I love Mexican food because I love all the fixings that go with it…lime juice, avocado, cheese, sour cream etc. Serve this chicken in tacos, on top of tostadas, in burritos or on nachos or all of the above!
Sour Cream Chicken Taco Filling
Ideal slow cooker size: 4-5 quart
1/2 cup diced onion
1/2 cup diced red bell peppers
1 tsp cumin
1 tsp chili powder
1 Tbsp canola or vegetable oil
1 Tbsp tomato paste
8 boneless, skinless chicken thighs
1 (13.75 oz) can cream of chicken soup
2 Tbsp quick cooking tapioca
1 (4 oz) can diced green chile peppers
1/2 cup sour cream
Salt and pepper

1. Place chicken in bottom of slow cooker.
2. Combine onion, peppers, cumin, chili powder, oil and tomato paste in microwave safe bowl. Microwave for 4-5 minutes, stirring every minute until onions are soft. Add in the soup, tapioca, green chile peppers. Pour over the chicken.
3. Cover and cook on LOW for 4-6 hours. Chicken should be to the point where you can easily shred it. Take 2 forks and shred the chicken and then return to the slow cooker or use your standing mixer.

4. Stir in sour cream and then salt and pepper to taste.
5. Serve shredded chicken wrapped up in tortillas as tacos (or however you want to serve it).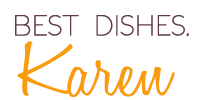 P.S. Check out this post I did on an easy way to bring dinner to a friend!