Serves 4
For the meatballs:
1 lb ground turkey or ground chicken
1 large egg white
1/4 cup whole wheat bread crumbs
1/4 cup minced onion
1/2 medium fresh jalapeno, seeds and ribs discarded, minced
1 tsp chili powder
1/2 tsp ground cumin
1 medium garlic clove, minced
1/8 tsp salt
2 tsp olive oil
For the sauce:
1/4 cup minced onion
1 tsp chili powder
1/2 tsp ground cumin
1 medium garlic clove, minced
1/8 tsp salt
1 (14.5 oz) can no salt added diced tomatoes, undrained (instead of the tomatoes and tomato sauce I used 2 cups of salsa, plus all the seasonings listed above)
1 (8 oz) can no salt added tomato sauce
cilantro, for garnish
1. In a medium bowl, combine the turkey or chicken, egg white, bread crumbs, onion, jalapeno, chili powder, cumin, garlic and salt. Use hands to thoroughly incorporate. Shape into balls (I made about 8 large meatballs, but you could make twice as many small)
2. In a large nonstick skillet heat the oil over medium high heat, swirling to coat the bottom. Cook the meatballs for 6 minutes, or until lightly browned, turning frequently.
3. Meanwhile, in the slow cooker, stir together the tomatoes, sauce, onion, chili powder, cumin, garlic, and salt.
4. When the meatballs are ready, add to the sauce. Cook covered, on LOW for 4-5 hours or HIGH for 3. Serve with cilantro, if desired.
per serving:
calories: 237, total fat 3.5 g, sodium 285 mg
Review:
I was so happy to receive my very own copy of the new American Heart Association's Slow Cooker Cookbook this week! Hooray! It just came out on September 18th. Here is a lookie at the front cover: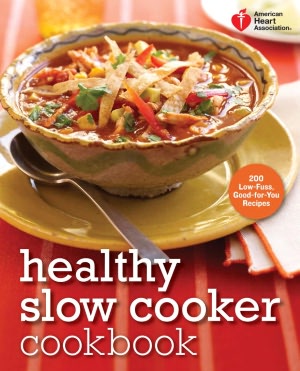 All of the recipes come with easy to read instructions, with suggestions on what size of slow cooker to use. In addition, there is nutrition information on each and every recipe. All the recipes stick with the AHA's heart healthy guidelines. There is over 200 recipes in the book including:
hot pomegranate cherry cider
double mushroom and barley soup
lime-infused tilapia with salsa
white and green lasagna
cinnamon quinoa with peaches
This meatball recipe was delish. I changed it up a bit because of what I had on hand, but I'm sure the original recipe would be awesome as well. As annoying as it is to brown the meatballs, it really was worth it. It added a nice brown color and flavor depth that couldn't have happened in the slow cooker alone. I also changed the cooktime. In the book it says to cook it twice as long, but with my own experience I know that would be way too long. I served mine over rice. I would give this recipe 4 stars. If you love your slow cooker and want more healthy recipe ideas, I definitely recommend this cookbook. Find it in stores now!
Disclosure: I received a free copy of this cookbook in exchange for my honest opinion.