This is one of my family's favorite soups. We all love the tortellini's and meatballs and all the other flavors combined make for a yummy broth. I like making this soup to bring to potlucks too. It always is a popular hit! Serve with some delicious bread and you've got a meal. If you prefer, you can swap the meatballs out for a pound of ground Italian sausage that has been browned and drained. Remember to use mild sausage though if you're planning on serving to kids…they may not appreciate the soup if it's too spicy.
Slow Cooker Italian Meatball and Tortellini Soup
Makes 8-10 servings
Ideal slow cooker size: 6-8 quart
Cooking time: 6 hours
2 tsp dried basil
2 tsp dried oregano
1 finely diced onion
1 cup grated carrots
1 Tbsp tomato paste
2 garlic cloves, minced
2 Tbsp olive oil
1 1/2 lbs frozen Italian meatballs
1 (14 oz) can petite diced tomatoes
2 (8 oz) can tomato sauce
1 (20 oz) bag of frozen cheese tortellini
1 medium zucchini, sliced into quarter inch rounds
1 green pepper, diced
5 cups water + 5 tsp beef bouillon (OR 5 cups beef broth)
Salt and pepper
Grated mozzarella cheese, for topping
1. In a microwave safe bowl combine the basil, oregano, onion, carrots, tomato paste, garlic and olive oil. Microwave for 5 minutes, stirring every 90 seconds. Add to the slow cooker.
2. Add meatballs, tomatoes, tomato sauce, tortellini, zucchini, green pepper, water and bouillon to the slow cooker.
3. Cover and cook on LOW for 6-8 hours.
4. Salt and pepper to taste.
5. Ladle into individual serving bowls and top with mozzarella cheese.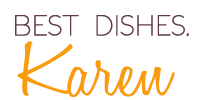 P.S. Save this recipe by pinning it on Pinterest!