If you're in charge of making the mashed potatoes for Thanksgiving/Christmas you'll want to save this recipe! For ultimate ease and as a stove-top space saver these potatoes are made in the slow cooker. They're totally flavorful thanks to the Parmesan cheese, bacon and fresh thyme. These potatoes are an extra special touch to your holiday dinner.
One thing that really turns out well in the slow cooker is mashed potatoes! I've made rosemary mashed potatoes, mashed red potatoes with skin and buttermilk garlic mashed potatoes. They have all turned out really well so I felt it was time for a new version. These slow cooker holiday mashed potatoes are special and perfect for Thanksgiving or Christmas. They are loaded up with bits of crunchy bacon and Parmesan cheese. Ricotta cheese is added for an extra creamy and rich taste and fresh thyme gives a subtle but delicious flavor. Bottom line…everyone at your holiday dinner will love these potatoes and be amazed that they were made in the slow cooker!
These potatoes are pictured in my casserole crock...best new crockpot ever! I love the shape and the look of it!
Slow Cooker Holiday Mashed Potatoes with
Bacon, Parmesan, Ricotta and Thyme
Makes 6-8 servings
Cooking time: 4-6 hours
2 lbs red potatoes,
peeled or not peeled–you choose
4 cups water
1 tsp salt
1 bay leaf
3 garlic cloves, peeled
2 Tbsp butter
2/3 cup heavy cream, half and half or
milk,
plus more if needed
1/3 cup ricotta cheese
1/2 cup parmesan cheese
5 strips of crispy cooked bacon, crumbled
5 sprigs of fresh thyme
Salt and pepper to taste
1. Cut the potatoes into quarters.
Place in the slow cooker.
2. Pour water over potatoes and stir
in salt, bay leaf and garlic.
3. Cover and cook on LOW for 4-6
hours or until the potatoes are fork-tender.
4. Drain the water and discard the
bay leaf.
5. Stir in the butter, cream and
ricotta cheese; mash the potatoes by hand or with a hand mixer.
6. Pick off the leaves of the 5
sprigs of time and stir into the potatoes. Stir in Parmesan cheese and
salt and pepper to taste. Add more cream/milk, if needed.
7. Turn slow cooker to warm until
the potatoes are ready to serve (stays good on the warm setting for up to 2
hours).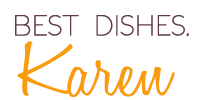 P.S. Make sure to join in all the foodie fun on Pinterest!
Visit Karen Petersen's profile on Pinterest.