This soup is absolutely amazing! I am so excited that it turned out as well as it did. I thought that using potatoes as the creamy base of the soup might give the soup an off taste but it turned out perfect. I used yellow butter potatoes which give the soup a rich, buttery taste without all the calories. It also gives the soup an ultra thick and creamy texture.
I wanted a lot of broccoli flavor so I used an entire pound of frozen broccoli florets. By using frozen broccoli that was already cut into florets and frozen at the peak of freshness I saved time and ensured uniformity and quality in the soup. I also wanted the cheddar taste without a lot of calories so I went with an extra sharp cheddar. This gave the soup the flavor it needed and I only used 2 ounces of cheese. Of course you could double that amount and it would probably be even better but if you're trying to go the healthier route just stick with 2 ounces. I ended up using half and half but I totally think that using milk would be fine too.
I hope you love this soup as much as I did!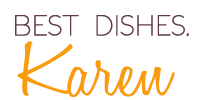 P.S. Make sure to join in all the foodie fun on Instagram!