This recipe is made possible by Hurst's Beans. Thanks so much to Hurst's for sponsoring this recipe. It's always so much fun to work with such a great family-owned company.
I love this chili! My family loves this chili! My son had thirds. Thirds. And then he went to the fridge 10 minutes after dinner. He's seven. I'm scared for when he's seventeen. Should I scrap the college fund and start a grocery fund?
You're going to use a lot of beef for this recipe! I used almost 2 1/2 pounds of beef stew meat. Keep in mind that this recipe makes a lot! Probably about 10 servings. If you want to make your own stew meat, just buy a chuck roast and cut it into cubes. Sometimes this method is a lot cheaper than buying the already-cut-for-you meat.
The spice packet that's inside of the soup package is a cajun spice that you'll coat the beef with. I browned my meat with half of the spice mix and saved the other half of the spice mix for later (I added it into the chili at the end of the cooking time to give it a flavor boost).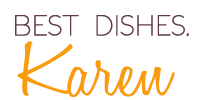 P.S. Get all my Hurst's Recipes! Click on the pictures to get to the recipe: