This is a super easy way to make an iconic, Italian favorite–baked ziti! I love how this recipe doesn't require you to pre-boil the noodles. When cooked on high the raw noodles cook perfectly. I used my casserole crock to make this ziti but you can definitely use your favorite oval shaped slow cooker. I added dollops of ricotta on the top after the ziti was cooked through for a creamy taste. If you don't love ricotta you can easily try out cottage cheese, cream cheese or even sour cream.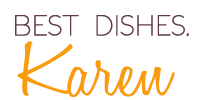 P.S. Need an idea for a Christmas gift?
Order my cookbook!
It's less than $20 on Amazon!