---
Thanks for stopping by! Do you love crockpot recipes? Wish you had more good ones that your family would actually eat? Get all my new recipes delivered to your email inbox by signing up here.I usually send out 1-2 new recipes per week. And you can unsubscribe at anytime. This is a free service! Try it out. You'll eat better and be more inspired to make family dinner happen at your house.
---
A delicious creamy soup with all your favorite baked potato toppings.
Don't forget the bacon bits.  MMMMMMM!!! 
Slow Cooker Baked Potato Soup
Slow Cooker Baked Potato Soup
Makes 6 servings
Ideal slow cooker size:  5 quart
4 large garlic cloves, minced
6 medium uncooked red potatoes, cubed
4 tsp chicken bouillon granules
Toppings:
green onion, cheese, sour cream, bacon bits
1.  Combine the onions and garlic in a microwave safe bowl.  Drizzle with the oil.  Microwave for about 4 minutes, stirring every 90 seconds.  Add the onions to the slow cooker.
2.  Add potatoes, bay leaf, salt, water and bouillon to slow cooker.
3.  Cover and cook on LOW for 6-8 hours or HIGH for 3-4, or until potatoes are cooked through.
4.  Prepare a roux.  Melt butter over low heat in a skillet.  Slowly add in the flour and whisk.  After butter and flour are combined, slowly add in milk and tablespoon at a time.  Continue whisking.  When roux is thickened up slowly add in 1 cup hot soup (add in just the liquid part of the soup).  Whisk until thickened.  Stir in another cup of soup (again just the liquid) and keep whisking until thickened.  Do this another 2 times.  When you have a nice thick creamy sauce, add it all back into the slow cooker.  Stir.  Salt and pepper to taste.
5.  Ladle into bowls and then add toppings.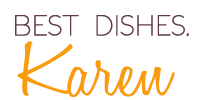 P.S. Like comforting slow cooker soups?  Try these other popular favorites too!
Click on the picture to get the recipe: