"I participated in an Influencer Activation on behalf of Influence Central for Calphalon. I received product samples and a promotional item to thank me for my participation."


I have a confession to make. I'm a food blogger and I don't have knife skills. I don't know the proper way to chop an onion, slice an apple, or cut a butternut squash. I usually wing it and always end up thinking, "I'm sure there's a better way to cut this." I feel clunky and awkward. Part of the problem is that I don't have good knives. They aren't sharp. I'm pretty sure we bought them when we first got married 15 years ago and they have never been sharpened (who's got time for that?).


Well, I'm happy to say that things are changing! I received an awesome set of knives from Calphalon (sidenote: I knew I wanted these knives because I have a Calphalon pan and it is by far the best quality pan that I've used. I figured the knives would be just as quality as the pan and I was right.) By far, the coolest thing about the knives is that they are self-sharpening. What?! How is that possible? Well, the knife set comes with an attractive knife block and inside each of the little slots is a ceramic sharpener. That way every time you put your knife back into the correct slot in the knife block it's automatically sharpened at the correct angle and without any effort on your part. Brilliant!

My set came with 8 steak knives, kitchen shears (these are my favorite), 8 inch serrated bread knife, 7 inch Santoku, 6 inch utility knife, 8 inch chef knife and a 4 1/2 inch parer knife.
The first thing I freaked out about was cutting a tomato with these knives! It was such a different feeling cutting a fragile tomato with a sharp high quality knife. I just want to make pico de gallo every night now 😉 Check out this video of the proper way to cut tomatoes.


I've been doing a lot of chopping lately and have loved learning the proper way to cut an onion. As I mentioned in my Tomato Basil Soup recipe, having a sharp knife makes you cry less when you cut an onion! And chopping the carrots and celery for the soup was so much easier (and more fun) with Calphalon knives.





I suggest giving these knives as a wedding gift or maybe even giving yourself an anniversary gift of these knives. I've really loved them so far and am excited to keep cooking them and using them!


Do you want to win a set of Calphalon Knives ($219 value)???


I know you do!


TO ENTER:
Visit the knife skills website and then enter a comment below telling me which video was the most helpful to you! (the pomegranate one was pretty life changing for me!) Make sure to leave your first name and email address so I can contact you if you win!


This giveaway will go only until November 6th, 2015.


Contest entrants are only eligible to win once per sweepstake, per household as part of a campaign sponsored by Influence Central.


(Note: contest is over and winner has been notified by email)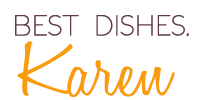 P.S. Make sure to follow Calphalon on Facebook, Twitter, and Instagram!