(This post is sponsored by Hurst's Hambeens, but as always all opinions are my own)
Now that we're moving into the cooler months I love making soup for dinner. I could eat it most every night. And lucky for me, my family enjoys soup just as much as I do. My husband loves to take the leftovers for lunch the next day and most of the time soup leftovers are better than the first night since the flavors have had more time to marinate.
I created this soup using
Hurst's Hambeens 15 Bean Soup.
You can find these dried bean soups next to the dried beans in your local grocery store. They are a very inexpensive way to serve a LOT of people. This package of beans is sold for about $2.28 at my store…add in a few other ingredients and you have enough dinner for 15 people! Talk about stretching a budget. I also like that the beans are so full of nutrition! Lots of protein and fiber.
I decided to go the smoky route with this bean soup. I added in smoked sausage, liquid smoke and smoked paprika. Because the beans take a very long to cook and get soft I decided to add the sausage into the soup during the last hour so it wouldn't get all mushy. In addition I added the high acidity items at the end as well because they prevent the beans from getting soft. I served my soup with a square of cornbread and it was a delicious and hearty meal. This soup is a perfect recipe for those who work long hours. The beans take a long time to cook so get the recipe started early!
Makes 15 servings
Ideal slow cooker size: 6-8 quart
Cooking time: 12 hours on LOW
8 cups of water
1 lb smoked sausage, sliced into quarter inch rounds
2 tsp liquid smoke
2 Tbsp Worcestershire sauce
2 Tbsp dried minced onion (or you can use 1 whole diced onion)
1 Tbsp minced garlic
1 (6 oz) can of tomato paste
1 (14.5 oz) can petite diced tomatoes
Juice of one lemon
2 tsp smoked paprika
2 tsp chili powder
1 tsp salt
1/2 tsp pepper
Salt and pepper
1. Open package of beans and remove the seasoning packet. Save for later use. Pour beans into a large bowl and cover completely with water. Let soak overnight.
2. In a morning, drain off all the water and place beans in the slow cooker. Add in 8 cups of fresh water. Add in onion, liquid smoke, Worcestershire sauce, garlic, smoked paprika and chili powder.
3. Cover and cook on LOW for about 12-14 hours or on HIGH for about 8 hours, or until beans are soft and tender.
4. Add in the HamBeen seasoning packet, sausage, tomato paste, tomatoes, lemon juice and salt and pepper. Cover and cook on HIGH for another 30-60 minutes to let the flavors blend and the sausage heat through (these items are added later because the sodium and high acidity prevent the beans from getting soft).
5. Salt and pepper to taste and add in additional seasonings, if needed. Ladle into bowls and serve with warm rolls or bread.
Hurst's HamBeens is also giving away a $50.00 gift card to your favorite grocery store and a 2 pack of the new Slow Cooker items offered by Hurst's Hambeens! Enter below! U.S. Residents only, please.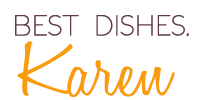 P.S. Make sure to follow Hurst Beans on Facebook!