Makes 4-6 servings
Ideal slow cooker size: 3-5 quart
1 lb ground beef, browned and drained (I like to cook ground beef in bulk and then store in freezer zipper bags in 1 lb increments. It saves time when you're putting something like this together.)
2 cups salsa or picante sauce (I used mild)
1 tsp onion powder
1 cup black beans, drained and rinsed)
1 tsp chili powder
1 tsp cumin
1 tsp garlic powder
1 cup frozen corn (you could use canned corn, too if you want)
3 whole wheat tortillas, cut into one inch squares (I used a pizza cutter to help make this super fast)
2 cups shredded sharp or medium cheddar cheese
Sour cream, extra salsa, cilantro, for serving
1. Stir the beef, salsa, onion powder, chili powder, cumin and garlic together in bottom of slow cooker. Spread evenly across bottom of slow cooker.
2. Sprinkle the beans on top of beef mixture.
3. Sprinkle the corn on top of beans.
4. Spread the tortilla squares on top of the corn into a even layer.
5. Finally top with cheddar cheese in a even layer across the top.
6. Cover and cook on HIGH for about 2 hours or on LOW for about 4 hours.
7. Spoon the casserole onto serving plates. Dig down deep to get all the layers. Top with sour cream, cilantro and extra salsa, if desired.
Review:
This is an easy recipe with simple ingredients. It's great for serving a large family and I promise, most everyone will eat it (most everyone). Substitute in your favorite toppings or ingredients…it's easy to swap in and swap out. 4 stars.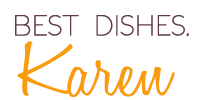 P.S. Make sure to join in all the foodie fun on Twitter, Facebook and Pinterest!