(This is an updated post with new photos from November 2012)


The other day I went to Sweet Tomatoes and was loving their Sweet Tomato Basil Soup. I decided I needed to make something similar at home. And I made something even better. If you love tomato soup, you will love this soup (AND bonus it's very very easy.)
I know you all love this recipe for the tomato basil parmesan soup (it's my most popular recipe of all time). But I'm hear to tell you that this recipe is JUST as good. AND it's easier. AND it gets less dishes dirty. AND you will love it. What are you waiting for???
2 things: You must use the caramelized tomato paste (it gives it an amazing flavor boost) and you must use the crushed tomatoes. Please don't substitute diced. However, I bet if you really wanted you could use half and half instead of the heavy cream.
For my kids, I added it some frozen raviolis and let the hot soup cook them. They loved it and it turned it more into a whole meal for them.
I hope you love this soup as much as I did!
Recipe for Slow Cooker Sweet Tomato Basil
Soup
Makes 8-10 servings
Ideal slow cooker size: 6 quart
Cooking time: 5-7 hours on low or
3-4 hours on high
1 medium onion, diced
3 Tbsp olive oil
1/3 cup all-purpose flour
1 Tbsp dried basil
(or about 1/4 cup fresh)
1 tsp oregano
1 Tbsp caramelized tomato paste**
2 (28 oz) can crushed tomatoes
4 cups chicken broth

or 4 cups water + 4 tsp
chicken bouillon granules

(I always use

Shirley J bouillon

because it dissolves easily and it's
not too salty…you only have to use half as much too because it's ultra
concentrated.)
1 Tbsp honey
1 tsp salt
1 cup heavy cream, warmed
1/4 cup finely chopped fresh Italian
parsley
Salt and pepper to taste
Grated mozzarella or Parmesan cheese
1. Add diced onion, olive oil,
flour, basil and oregano to a microwave-safe bowl. Give a little stir.
Microwave for about 5 minutes (stir every 90 seconds). Transfer to
slow cooker.
2. Add in tomato paste, crushed
tomatoes, broth, honey and salt.
3. Stir a bit and cover. Cook
on LOW for about 5-7 hours or on HIGH for about 3-4.
4. Remove lid and turn to HIGH.
(If you want, you can use an immersion blender at this point to get it
really smooth and creamy)
Stir in warmed cream and Italian parsley.
Salt and pepper to taste. Let cook for another 10 minutes on HIGH
without the lid
(so it can
thicken up a bit).
5. Ladle into bowls and top with
cheese. Serve with warm rolls or bread.
**Caramelized
tomato paste: this is a flavor booster that is amazing!!! To make
just heat
1
tablespoon of olive oil in skillet, add 1 (6-oz can) of tomato paste,
stir frequently and cook until deep crimson color (will reduce by approximately
1/4). Freeze extra tomato paste in one tablespoon increments for later use.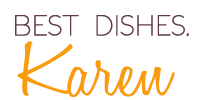 P.S. Love crockpot soups? Get all of them here: