This time of year it's fun to make lots of dips and the slow cooker is the perfect implement to cook and serve them in. So whether it's for your football-watching party or to bring to a holiday party remember to use your slow cooker this season for all your entertaining needs! This chicken taco dip was whipped up the other day with random items I had in my house. It turned out super creamy, thick and flavorful.
Makes 15 servings
Ideal slow cooker size: 3-4 quart
Cooking time: 4-6 hours
2 chicken breast halves
1 (14 oz) can corn, drained
1 (14 oz) can black beans, drained
1 (4 oz) can green chiles
1-2 cups salsa (depending how saucy you like it)
2 Tbsp taco seasoning
1 (8 oz) container of cream cheese (low fat is okay)
Salt and pepper to taste


1. Place chicken, corn, beans, chiles, salsa and taco seasoning in slow cooker.
2. Cover and cook on LOW for 4-6 hours, until chicken is cooked through and tender.
3. Remove chicken and shred (using your mixer* or 2 forks) and then add back into the slow cooker.
4. Cut the cream cheese into 8 pieces and stir into the slow cooker. Let the cream cheese melt and then stir again.
5. Salt and pepper to taste and serve with tortilla chips.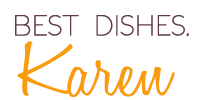 *Karen's Kitchen Tip: Use your stand
mixer to shred meat
You can use two forks to shred
chicken, beef or pork or you can do it the easy way and use your stand
mixer. After the meat is cooked through
and fork tender, carefully remove it from the slow cooker with tongs and place
in the bowl of your stand mixer fitted with the paddle attachment. Turn the mixer to low for about 45
seconds. It should be shredded
perfectly. Use the meat right away or
store in plastic freezer bags for meals at a later time.