---
Thanks for stopping by! Do you love crockpot recipes? Wish you had more good ones that your family would actually eat? Get all my new recipes delivered to your email inbox by signing up here.I usually send out 1-2 new recipes per week. And you can unsubscribe at anytime. This is a free service! Try it out. You'll eat better and be more inspired to make family dinner happen at your house.
---
An easy, flavorful potato side dish that can be prepped in about 5 minutes!
Recipe for Easy Slow Cooker Italian-Seasoned Potatoes
Makes 4 servings (can easily be doubled)
Ideal slow cooker size:  3 quart
3 large yellow potatoes
1 Tbsp olive oil
1 Tbsp home-made Italian dressing mix*

1.  Scrub potatoes until clean.  Cut potatoes into cubes.  Place in slow cooker.
2.  Drizzle with the olive oil and sprinkle with seasonings.  Use a spoon and turn to coat the potatoes in the oil and seasonings.
3.  Cover and cook on HIGH for about 2-3 hours or on LOW for 4-6 hours or until potatoes are tender  (the yellow potatoes will cook a lot quicker than russet so keep that in mind if you choose a different kind of tater)
4.  Stir the potatoes gently and serve!  (some of the seasonings went to the bottom of my crock so make sure to stir to get all the goodness evenly on the potatoes)

*Homemade Italian Dressing Mix
1 Tbsp garlic powder
1 Tbsp onion powder
1 Tbsp sugar
2 Tbsp oregano
1 tsp black pepper
1/4 tsp thyme
1 tsp basil
1 Tbsp parsley
2 Tbsp salt
In a airtight container, mix all ingredients and store with lid on tightly.
Review:
Potatoes are a great side dish to most any meal!  This recipe is super super easy especially since I always have the Italian dressing dry mix already prepped.  I like the yellow potatoes for this particular recipe but you could always swap them out with red or russets.  I'll be making this again for sure.  If you're in a hurry, you could oven bake these on a cookie sheet as well.  Probably at about 425 for 20-30 minutes.  4 stars.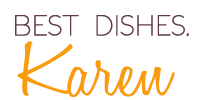 P.S.  Make sure to join in all the foodie fun on Twitter, Facebook and Pinterest!