If you've been following my blog, you know that I have been involved for the past little bit with the
Reynolds Real Moms
. Because I was one of the winners (yay!), last week I was able to go back to Chicago to film some more commercials using their wonderful products. It was quite an awesome trip. And this time my husband joined me so we had a fun get away (no kids allowed, thanks to Grandma)!
The first morning we had a group photo shoot and this is the car that pulled up to the curb to take us to the studio! Ha ha, we were all freaking out and taking pictures. Not everyday does a real mom like me get to feel ultra pampered and special!
My ABSOLUTE favorite part of the trip was the make up and wardrobe. Oh man, I could get used to someone constantly making sure I look good. There were 2 ladies there just for that purpose. I can't tell you how awesome this was. When you're not worried about if you have anything in your teeth or if your hair is getting frizzy, you can concentrate on other things like learning the script 🙂
The other thing that I could get used to is a huge rack of clothes like this! Turns out I didn't need to worry about
what to wear
because they had it covered. They ended up picking out a simple green top with a gold necklace for me to wear. And I got to take it home with me too 🙂 Gotta love that!
There was plenty of time to sight see as well!
My husband and I had fun playing tourist. Apparently we were in Chicago on the best 2 days of the year. The weather was incredible and everyone kept commenting on it! Lucky us. We got to ride in one of the open-topped buses and see all the sights. So fun and relaxing!
Driving past Harpo Studios…wishing me and Oprah could be BFFs!
After a wonderful day, everyone met up at
The Girl and the Goat
(a most amazing restaurant run by winner of Top Chef, Stephanie Izard). Let's just say it was probably
the
best meal I've ever eaten. It was also the most diverse meal I've ever eaten. Some of the things I got to try? Beet bread, chickpea fritters, goat sausage, shishito peppers, baby octopus, roasted cauliflower, roasted pig face, wood grilled broccoli, and pork shank. Oh MY goodness. I just couldn't believe how even the *weird* stuff tasted so amazingly flavorful! Also, I was happy that I wasn't the one picking up the tab 🙂
The next morning I was up and at 'em early. It was my day to shoot 6 commercials. The time that they thought we would be done? 5 pm. The actual time that we wrapped? 10 pm. Oh man, it was a long day. BUT I have to say I felt surprisingly energetic and didn't get really tired until about 9 pm. I prayed that morning specifically for extra energy and strength and I was blessed with it! During the day there were many periods of down time. I just kept thinking to myself "this is sooooo surreal." Now after getting home, it does truly feel like it was a dream. It was just so amazing to be on a set filming commercials for a national brand. I loved seeing the camera crew, the food stylist and the whole process. What a unique and exceptional opportunity. I feel so very lucky to have been involved with this and can't wait to share the results with you in a couple of months! You're going to love it!!!!!! (I hope)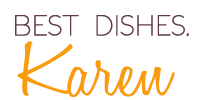 P.S. Make sure to join in all the foodie fun on Twitter, Facebook and Pinterest!