The older I get the more I come to understand my personality and what drives me. I think this has to do with looking at my children and noticing how they are like me and how they are not like me. My daughter is like Fort Knox. She keeps pretty much everything inside and it takes a lot for her to express feelings. My son, on the other hand, is pretty much an open book. He wears his heart on his sleeve. His joys are manifest in the smallest of things (I found a gummy bear on the pantry floor–yay!) and his sorrows are pretty low (I NEVER get to play with friends–BOO HOO!). I am sometimes frustrated when my daughter doesn't open up or express feelings but then I remember that I was probably the exact same way as a child. I remember the unit in health class about feelings and how I HATED it and would make fun of it with my family at home. I didn't want to talk about feelings. Sometimes when we were little my dad would have this father-daughter interview. I remember him falling asleep because we sat there so long due to my unwillingness to talk. Another time I remember having a really awesome experience as a 14 year old with my mother and father present. They wanted to talk to me about it afterwards and I just didn't want to! I didn't want to talk about my feelings–I just wanted to feel them inside myself and not talk about them with anyone else. I remember my mom being frustrated with that. I still find that I am pretty stubborn with my feelings and don't really like to express them and talk about them much. My husband is more like my son and really actually loves to talk about feelings. We were discussing this the other day on how much he likes to talk about feelings. Other people's feelings, his feelings…he likes it all. I guess opposites attract, eh? What about you? Are you an open book? Or do you keep your cards close to your chest?
Anyhow, back to the food! Lately I've been just a little obsessed with coconut stuff. I have been seeing recipes for all types of coconut cookies and desserts and every time
I pin them
with the thought that I will make them someday soon. This, however, is a different type of coconut recipe…a savory beans and rice with island flare. I served this crockpot coconut beans and rice with some Jamaican jerk chicken but it would also pair nicely with crockpot
Hawaiian Chicken
or the crockpot
Caramel Chicken
that I made last week. The rice is creamy and filling. I always use brown rice in the slow cooker because it holds up much better than white rice. Plus it's just what we eat…it's more healthy and more filling. I hope you like this as much as we did!
Makes 4-6 servings
Ideal slow cooker size: 3 quart
Cooking time: 3 hours
1 (13.5 oz) can coconut milk (full fat is best)
1 cup brown rice
1 tsp minced garlic
1 (14 oz) can black beans, rinsed and drained
3/4 tsp salt
1 tsp sugar
1 Tbsp coconut oil
1/3 cup boiling water
1 lime, juiced
Green onion, for garnish (optional)
1. Shake up the can of coconut milk and then open it and pour it in the slow cooker. You may need to use a spatula to get it all out.
2. Add the rice, garlic, beans, salt, sugar, coconut oil and boiling water to the slow cooker. Stir a bit.
3. Cover and cook on HIGH for about 3 hours, or until rice is tender.
4. Squeeze fresh lime juice into the rice and gently stir. Scoop onto serving plates and garnish with green onion, if desired.
Recipe inspired by Wishful Chef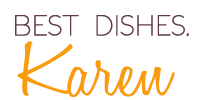 P.S. Want some more ideas for crockpot side dishes? Try these 3 (click on the picture to get the recipe).