This slightly spicy and totally flavorful pork is perfect for tacos, burritos, enchiladas, salads, casseroles, sandwiches and more. Besides tasting awesome, it's one of those recipe where you dump everything in the slow cooker and walk away. Win-win!
Slightly spicy and totally flavorful crockpot pork loin
As I walked into the grocery store the other day I found saw a steal of a deal on pork loin. I haven't used pork loin all that often but figured I could find a way to use it in the slow cooker. Turns out I found a GREAT way to use pork loin. This recipe is super flavorful thanks to chipotles in adobo sauce, onions, garlic, lime juice and kosher salt. It's lean as well because pork loin doesn't have a ton of fat it in. I cooked the pork until it was really tender and easy to shred. I took a fork and a knife and easily shredded it up in minutes. You can serve this pork in so many ways and each way is delicious!
This recipe is super easy thanks to the help of your slow cooker!
Recipe for Slow Cooker Chipotle Shredded
Pork
Makes 6-8 servings
Cooking time: 4-8 hours
1 Tbsp minced garlic
1 cup diced white onion
1/4 cup fresh lime juice (for me this was 1 lime)
2 Tbsp apple cider vinegar
3 bay leaves
1 Tbsp dried oregano
1 Tbsp ground cumin
1 Tbsp kosher salt
1 tsp pepper
1/2 cup water
2 1/2-3 lbs pork loin
1. Place garlic, chipotles, onion,
lime juice, vinegar, bay leaves, oregano, cumin, salt, pepper and water in
bottom of slow cooker. Stir a bit.
2. Cut the pork loin into for
pieces. Nestle the quartered pork loin into the slow cooker and spoon
some of the sauce over the top.
3. Cover the slow cooker and cook on
HIGH for about 4 hours or on LOW for about 6-8 hours, or until very tender and
easy to shred.
4. Discard the bay leaves. Shred the meat and add back into
the liquid. Stir a bit and then serve in tacos, salads or sandwiches (or
however you want).
Recipe adapted from Gimme Some Oven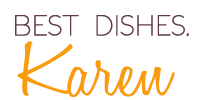 P.S. Have you got your copy of my brand new cookbook yet? It's awesome!