There are a few things I need to tell you about. There was a period of time when I was in depression because I couldn't find a good salad dressing. Those days are over! These are products that I have been using that you need to know about. They will change your life. Okay maybe that was a wee bit dramatic but they will definitely make your life better!

1. Feta Dill Dip/Dressing–my sister told me about this dressing and I super love it. It is made with yogurt so it only has 50 calories per 2 Tbsp (as opposed to regular dressing that probably has twice that much). If you're a little iffy on the flavor of feta don't worry…it's not overpowering at all! This is found in the produce refrigerator section of your grocery store.

2. Cilantro Avocado Yogurt Dressing–I really hesitate to tell you about this dressing because every time I go to the grocery store it's all sold out! I don't know if we need anymore people knowing about this dressing 🙂 This dressing is so packed with flavor you won't miss the fat/calories. It's also a yogurt dressing and only has 40 calories per 2 Tbsp. This is seriously my favorite. We try to give the kids regular ranch and they always get mad because they want this kind instead! It's also found in the produce section of the grocery store.
3. Sabra Farmer's Ranch Greek Yogurt Dip–This dip has a thick consistency so it's perfect for dipping carrots and celery. It's also made out of Greek yogurt so it's much better for your than regular ranch dip. I love the little chunks of garden veggies in the dip. I found this at Costco in a large container and we've been bringing it out for lunches every day. It's a perfect way to get you to eat more veggies.


4. Olive Garden Salad Dressing–If you like the Olive Garden salad dressing from the restaurant you'll love this because it's pretty much the exact same. It's really yummy and much better than regular Italian dressings you can buy. I found this in the dressing aisle at the grocery store. Not low calorie but very tasty 🙂

What about you? Do you have any to add to the list?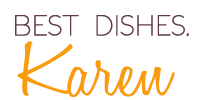 P.S. Love salad? Try these out (click the picture to get to the recipe):