If you follow me on Instagram or Facebook you might remember that I visited Washington DC a bit ago. Four other bloggers and I were able to visit our nation's capital on behalf of American Heritage Chocolate and the National Archives Foundation. It was a great couple of days where I truly learned so much. I haven't been to DC since I was a junior in high school so it's been almost 20 years. Visiting there as an adult was a lot different experience than when I was a teenager 🙂
I truly have come to believe that travel is the best form of education. There's nothing like seeing the Declaration of Independence in person to get you thinking and wanting to know more about those men that founded our nation. (Okay and I must admit I watched "National Treasure" right before I visited the Archives and I kept thinking about Nicolas Cage and the treasure map the entire time I was there :).
Tweet: Travel is the best form of education.
We got super lucky because the weather was absolutely beautiful. Everyone kept telling us, "you guys really lucked out! It's usually so hot and humid." It felt perfect to me and my hair wasn't even that crazy or anything (having naturally curly hair can get really crazy sometimes in a very humid environment. That's why I live in Utah where there is .01% humidity).

"What is Past is Prologue"–a statue in the front of the National Archives. This sums up the purpose of the Archives. Really, learning and understanding our past (good or bad) will only help us understand ourselves and our future.
American Heritage Chocolate:
Our weekend started at the US National Archives where we learned more about the Archives and of course, CHOCOLATE! In my last post about American Heritage Chocolate I talked a bit about the history of chocolate in our nation. I love that George Washington loved chocolate and had it as a drink most every day of his life. I love knowing what the chocolate tasted like back then. It's a darker chocolate with hints of orange, anise, red pepper and other spices. My daughter, Reagan, really loves the chocolate and will eat the chocolate sticks for a little after school snack. She tells me "dark chocolate is healthy, Mom." You can't argue with that. Especially when I'm stuffing my own face with it.
We were able to make Buckeyes and Frozen Hot Chocolate with American Heritage Chocolate and both recipes were awesome! I'll definitely share them with you soon.
After our afternoon of cooking and learning, we enjoyed a fabulous night out to eat at Carmine's, an Italian restaurant, where we gorged ourselves on delicious foods. It's times like these that I wish my stomach was bigger!
Greg, my husband, was able to join me for the weekend and we enjoyed walking around DC in the evening–seeing all the lit up monuments. We walked and walked and walked and walked. If you're in DC make sure to wear comfy shoes! I switched my shoes out half way through with my running shoes and my feet were happy with me.
The World War II Monument in the evening with the Lincoln Memorial in the background. Spectacular!
The Archives:
The next morning we were able to enjoy a private tour of the US National Archives. Have you ever been to the US National Archives? This was my first time and to be honest I really didn't know much about it before I came. The most famous thing about the Archives is that it houses the original copies of the Declaration of Independence, the Bill of Rights and the Constitution. These historical documents are housed in a beautiful, reverent rotunda.
The beautiful, reverent rotunda in the US National Archives houses the Declaration of Independence, the Bill of Rights and the Constitution.
The US National Archives building is classic. It is located on Pennsylvania Avenue, halfway between the Capitol building and the White House. What a great place to take your family (it's FREE) and to explore the amazing exhibits that are housed here.
"Years before the first Archivist of the United States was appointed — before the National Archives and Records Administration even existed — architect John Russell Pope and his team were busy drawing up plans for the National Archives Building in Washington, DC. Since its opening in 1935, this magnificent neoclassical revival building on Pennsylvania Ave, halfway between the White House and the U.S. Capitol, has drawn researchers and visitors from around the globe who have come to
research
their own family histories and to explore the most important records of our democracy. Today, researchers enter the building on Pennsylvania Avenue, while other visitors enter on Constitution Avenue to explore exhibits and programs at the National Archives Museum."
–archivesfoundation.org
The Archives houses:
10 billion pages of textual records
12 million maps, charts and drawings
25 million still photographs and graphics
24 million aerial photographs
300,000 reels of motion picture film
400,000 video and sound recordings
133 terabytes of electronic data
Basically a LOT OF HISTORY!
One thing that is pretty cool is the census records housed in the archives. In this particular census, you can actually see Abraham Lincoln's handwriting. You can research your OWN family members records at the US National Archives.
How to have a stronger family (and nation?):
Lately I've been thinking a lot about a statistic I heard–
Oral stories die within 3 generations.
It's so important to have a written document of our history. Or else it will just die. Of course, it's wonderful to share stories verbally but it's more important to have a written record.
In a New York Times article "The Stories That Bind Us," the author writes,
"The single most important thing you can do for your family may be the simplest of all: develop a strong family narrative…Researchers found that the more children knew about their family's history, the stronger their sense of control over their lives, the higher their self-esteem and the more successfully they believed their families functioned…If you want a happier family, create, refine and retell the story of your family's positive moments and your ability to bounce back from the difficult ones. That act alone may increase the odds that your family will thrive for many generations to come."


If your kids know that Grandpa had hard times in life but he got through them, they'll know that they too can overcome challenges. If your kids have a sense of belonging to a larger family they'll see themselves as a link in an ever extending chain. Being a strong link in that chain will become important to them.
Even though this article discussed family narratives I believe that this can also be compared to our United States narratives and history. If we understand where our nation has come from and what we've come through we will be a stronger body of citizens.
The National Archives fits into nicely into this thought process. Learning about our country and where we've come from CHECK. Learning about your own personal family history and genealogy CHECK.
Basically, if you're in DC the US National Archives is a great place to spend some time. It's historic and compelling and that doesn't mean boring (and it's freeeeee!).
Washington Signature Tours:
In addition to visiting the US National Archives and learning about the history of chocolate, our group was able to visit DC's most famous monuments and sights on a bus tour. The tour company was called Washington Signature Tours and I must say that if you have 3 hours in DC you should take a tour! Dwayne, our tour guide, was young but so smart. His enthusiasm for the sights and monuments was contagious and he knew every single question that was thrown at him.
The Lincoln Monument all lit up at night. It's seriously so amazing.
"In this temple, as in the hearts of the people for whom he saved the Union, the memory of Abraham Lincoln is enshrined forever."
"First in War, First in Peach, First in the Hearts of his Countrymen"
Built to honor George Washington, the United States' first president, the 555-foot marble obelisk towers over Washington, D.C.
Martin Luther King Jr. Memorial: "Darkness cannot drive out darkness, only light can do that. Hate cannot drive out hate, only love can do that."
"Out of the mountain of despair, a stone of hope."
From the "I Have A Dream" speech in Washington, D.C. on August 28, 1963. The quotation serves as the theme of the overall design of the memorial, which realizes the metaphorical mountain and stone.
The World War II Memorial honors the 16 million who served in the armed forces of the U.S., the more than 400,000 who died, and all who supported the war effort from home. Symbolic of the defining event of the 20th Century, the memorial is a monument to the spirit, sacrifice, and commitment of the American people.
What a great trip! I feel so lucky to have been invited and what fun it was to get to know Jocelyn, Tammilee, Angela and Jen. I will definitely be visiting our Nation's capital again soon. So much to see and do!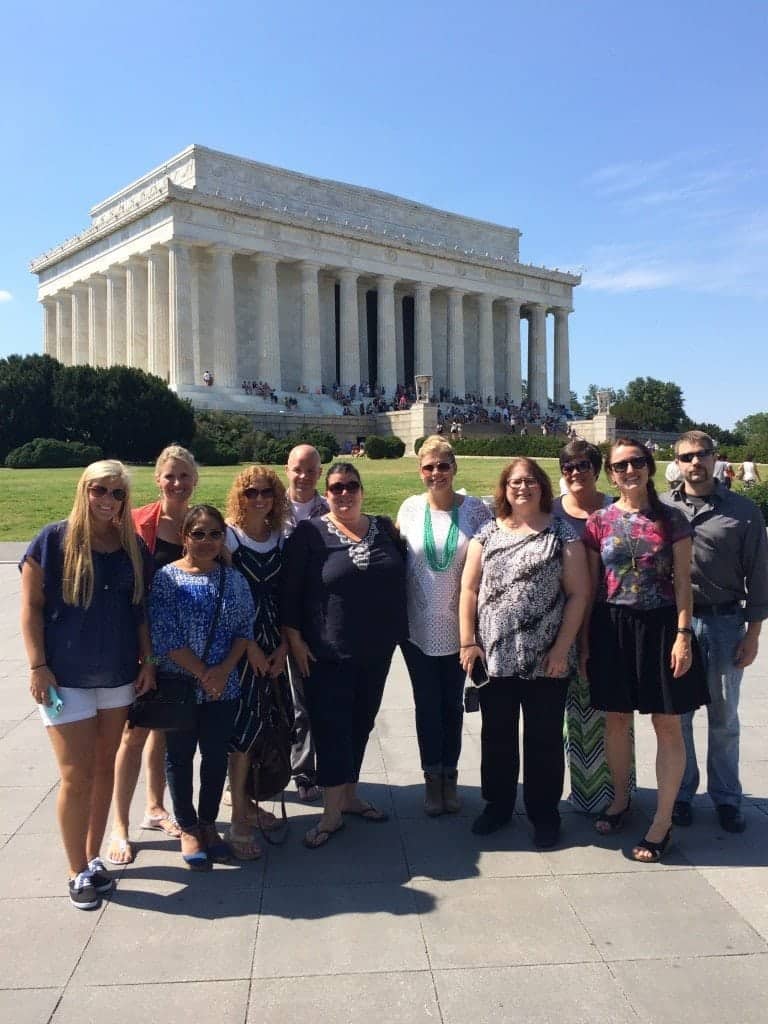 To find out more about American Heritage Chocolate visit the American Heritage Chocolate Website. Follow the #chocolatehistory and #americanheritagechocolate hashtags to see all the great photos and updates from this trip.
Travel and accommodations provided by American Heritage Chocolate.