Easter is right around the corner and if you're hosting an Easter Brunch you may want to pin this post so you can refer to it when you're scrambling to think of ideas to serve your family and friends! I love making breakfast stuff in the slow cooker. It seems to work out well and it's nice to have a hands off dish that can just cook itself while I'm doing other, more important things.
1. Slow Cooker Blueberry Coconut Quinoa: I feel like this is dessert. Don't skimp on the blueberries–the sweet and tart blueberries taste so awesome paired with the coconut.
5. Slow Cooker Overnight Apple Cinnamon Oatmeal: This is my favorite oatmeal recipe. It combines steel cut oats, apple juice and pearl barley for a sweet and chewy breakfast dish.

6. Slow Cooker Breakfast Casserole with Spinach, Mushrooms and and Peppers: I love peppers so much because of the flavor they add to recipes. This recipe is no exception. You'll enjoy this cheesy breakfast goodness.

7. German Pancakes in the Slow Cooker: Oh no I didn't! Yes, yes I did try to make German pancakes in the slow cooker. The pancakes got all puffy just like they do in the oven. Kind of fun!

8. Slow Cooker Ham and Swiss Frittata: Take your favorite ham and Swiss sandwich and put it into a breakfast casserole and this is what you get!

9. Slow Cooker Hot Chocolate: This delicious chocolatey drink is easy to keep warm in the slow cooker until your guests are ready to sip it!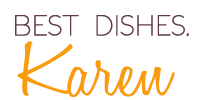 P.S. Do you follow my daily adventures on Instagram?