Fresh green beans that are roasted for optimal flavor along with sliced mushrooms and

panko bread crumbs
. Finally, it's topped with a delicious, creamy, indulgent hollandaise sauce.
This green bean side dish is sooooooo yummy. I'm going to make it again for myself today. If you're in charge of bringing a veggie to Thanksgiving dinner, please consider this one. If not, just try it for dinner sometime.
Roasted
Green Beans and Mushrooms with Creamy Hollandaise Sauce
A
new "green bean casserole" for your Thanksgiving dinner table
1 lb of
white mushrooms, sliced
2 lbs
of fresh thin French-styel cut green beans (you can find these at Costco in the
produce section)
For
the Hollandaise Sauce:
1/2 cup
(1 stick) cold butter, cut into 8 pieces
1.
Preheat oven to 450 degrees F. Line a cookie sheet with foil and
spray with non stick spray.
2.
Wash green beans and trim the ends. Cut beans in half.
3.
Place green beans and mushrooms in a large bowl. Sprinkle with
olive oil, salt, pepper and Panko bread crumbs. Use a spoon to stir
the beans and coat them really well with the olive oil. Pour the beans
onto the cookie sheet. Spread out as much as possible.
4.
Place cookie sheet in oven and roast for 20 minutes. Check for
doneness, if needed cook a few minutes longer.
5.
While beans are cooking, prepare the Hollandaise sauce. Whisk egg
yolks, water and lemon juice in small saucepan until blended. Cook over
very low heat, stirring constantly, until mixture bubbles at the edges.
6.
Stir in butter, 1 piece at a time, until butter is melted and until sauce
is thickened. Remove from heat as soon as sauce is thickened.
7.
Stir in salt, paprika and pepper.
8.
Spread the cooked green beans onto a platter. Drizzle hollandaise
sauce over the top of the beans and serve immediately.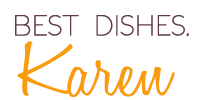 P.S. Are you on Instagram yet? It's super fun over there 🙂