Shredded pork in the slow cooker is about the easiest thing ever. It turns out perfect pretty much every time and it's not labor intensive at all. That's kind of how I like to roll in my kitchen so I really appreciated this easy and flavorful recipe for Southwest Pork and peppers. I used fresh red and green bell peppers plus a can of green chiles to give the pork a flavor boost. In addition there were onions and plenty of chili powder and cumin to give it some oomph. It's also got a creamy consistency thanks to the addition of sour cream at the end. We served ours over rice with some Fritos and it tasted great. You could also serve this over sandwiches or wrapped up in tacos.
Recipe for Sour Cream Shredded Pork and Peppers
Makes 6 servings
Ideal slow cooker size: 4 quart
Cooking time: 4 hours
1 (2 lb) pork loin
1 cup diced onion
1 green pepper, diced
1 red pepper, diced
1 tsp chili powder
1 tsp cumin
1 Tbsp oil
1 (4 oz) can diced green chili peppers
1/2 cup sour cream
Salt, cumin, chili powder to taste
1. Combine the onion, tomato paste, chili powder, cumin and oil in microwave safe bowl. Microwave for about 4-5 minutes until onions are nice and soft. Add the tapioca, peppers and green chili peppers.
2. Quarter your pork loin and place in the slow cooker.
3. Top the roast with the onion mixture.
4. Cover and cook on LOW for 4 hours.
5. Remove pork and shred (I use my stand mixer to shred chicken and pork…here is another post that explains how to do that)
. Transfer pork back into the slow cooker. Stir in the sour cream and and add in salt, cumin and chili powder to taste if needed.
6. Serve shredded meat and sauce in tacos, over salad, on sandwiches or over rice.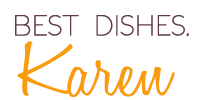 P.S. Try these other great CrockPot Pork Recipes: