I tried a little experiment the other day…making a risotto-type dish out of quinoa instead of rice. It worked out awesome! The best part is that it's made in the slow cooker and there's no stirring, unlike regular risotto which is really labor intensive.

I liked the creamy, comforting texture from this quinoa. I didn't add anything extra into my quinoa but I think mushrooms would be awesome or red peppers or peas or ham or a million other things. Get creative!
I love quinoa! It's such an interesting little grain? seed? I'm not really sure what it is. But I do know that it makes me feel full and healthy. I think you'll like it too…give it a shot!
Recipe for Slow Cooker Quinoa Risotto
Makes 4 servings
Cooking time: 2-3 hours on low
3/4 cup diced yellow onion
2 Tbsp butter
1 garlic clove, minced
1 cup quinoa, rinsed (the rinsing removes
the bitter flavor)
2 1/2 cups chicken broth or veggie broth
1 cup water
1/4 tsp salt
1/8 tsp pepper
1/3 cup Parmesan cheese
Salt and pepper to taste
Any additions you want such as sliced mushrooms,
peppers, peas, ham, spinach etc.
1. In a microwave safe bowl combine
onion, butter and garlic. Microwave for 5 minutes, stirring every 90
seconds. Add the mixture to the slow cooker.
2. Add the rinsed quinoa, broth,
water, salt and pepper to the slow cooker. Stir a bit. Add in any
additions you want.
3. Cover and cook on LOW for about
2-3 hours. Stir and add in the Parmesan. Salt and pepper to taste
and serve immediately.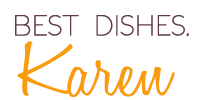 P.S. Try these other great quinoa dishes as well! Click on the picture to get the recipe: