This slow cooker creamy chicken reminds me of the
cream cheese/italian dressing mix recipe
that everyone seems to have made (and loves). But it's a bit healthier with the use of Greek yogurt instead of the cream cheese and the homemade dressing mix instead of the stuff in a packet. This is a super easy recipe and your family will love it. This recipe calls for a tablespoon of dry Italian dressing mix which I've included my favorite recipe for. The older Greg and I have got the less we like bottled dressings. Most of the time now I make my own. This is one of our favorites and I always keep the dry dressing mix on hand. I hope you try it because I know you will love it!
Makes 6 servings
Ideal slow cooker size: 4 quart
Cooking time: 4-6 hours
6 boneless, skinless chicken thighs, trimmed of fat
1 (13.75 oz) can cream of chicken soup
1 cup water
1 Tbsp dry dressing mix (recipe below)
3/4 cup Greek yogurt (or you can use sour cream), at room temperature (to prevent curdling)
1 Tbsp flour
Salt and pepper
Bacon bits (optional)
1. Place chicken in bottom of slow cooker.
2. Dump in the cream of chicken soup, water, dressing mix and tapioca.
3. Cover and cook on LOW for about 4-6 hours.
4. Remove the chicken and shred or cut into pieces. (I like to shred mine in my bosch*).
5. In a bowl, stir together the Greek yogurt and the flour. Add the mixture into the slow cooker and stir.
6. Add the chicken back into the slow cooker and stir into the creamy mixture. Salt and pepper to taste.
7. Serve creamy chicken and sauce over rice, noodles or potatoes. Top with a spoonful of bacon bits, if desired.
*Karen's Kitchen Tip:
Use your stand mixer to shred meat
You can use two forks to shred chicken, beef or pork or you can do it the easy way and use your stand mixer. After the meat is cooked through and fork tender, carefully remove it from the slow cooker with tongs and place in the bowl of your stand mixer fitted with the paddle attachment. Turn the mixer to low for about 45 seconds. It should be shredded perfectly. Use the meat right away or store in plastic freezer bags for meals at a later time.
Italian Dressing Mix Recipe:
(my husband and I are addicted to this dressing! We eat salads several times a week and always use this dressing)
1 Tbsp garlic powder
1 Tbsp onion powder
1 Tbsp sugar
2 Tbsp dried oregano
1 tsp black pepper
1/4 tsp ground thyme
1 tsp ground basil
1 Tbsp dried parsley
2 Tbsp salt
Mix all ingredients and store in an airtight container.
Dressing:
2/3 cup apple cider vinegar
2/3 cup olive oil
2 Tbsp water
2 Tbsp dry mix (recipe above)
In a jar, combine all 4 ingredients and shake. Store leftovers in the jar with a lid in the refrigerator.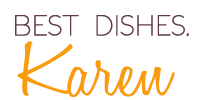 P.S. Like easy CHICKEN recipes? Check out all my crockpot chicken recipes that I've ever made HERE.