This recipe for whole wheat banana bread is the only banana bread recipe that I use. I love it, my husband loves it and my kids love it. It's more bread-like than cake-like and it's perfect when spread with butter, peanut butter or nutella! We always eat the whole loaf before it even cools.
It's another FUN FRIDAY! WOO! And today is extra fun because it's Friday the 13th…wooooooo…spooky! And it's my lovely husband's birthday! In honor of him, I'm posting this recipe for banana bread. It's his favorite banana bread ever and I think it's probably the only banana bread that he eats. You can make this with or without a mixer. I know with the hot summer months the bananas go browner quicker so make sure to try this recipe soon!
Best Recipe for Whole Wheat Banana Bread
Makes 1 loaf
Baking time: 60 minutes
2 1/2 cups whole wheat flour (I use flour made from soft or hard white
wheat)
1/2 cup white sugar
1/2 cup brown sugar
3 1/2 tsp baking powder
1 tsp salt
3 Tbsp canola oil
1/3 cup milk
1 egg
1 1/4 cup mashed bananas
(2-3 medium bananas)
1.
Preheat oven to 350
° F.
2. In a bowl whisk together the flour, sugar, brown sugar, baking
powder and salt. Set aside.
3. In a separate large bowl whisk together the canola oil, milk,
egg and mashed bananas.
4. Add the dry ingredients into the wet ingredients. Stir
until well combined.
5. Pour into a greased or parchment lined 9 x 5 x 3 inch loaf pan.
6. Bake for about 60-70 minutes. (I check the bread at
about 55 minutes and then keep checking every 3 minutes until it's done)
7. Let cool for 5 minutes and then slide out of the loaf pan.
Slice and serve.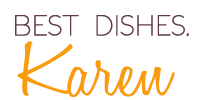 P.S. Make sure to join in all the foodie fun on Pinterest!