This is a creamy soup that uses flour, nonfat powdered milk and evaporated milk to get that consistency. So it's a little bit less guilt than butter and cream. Plus it has some mushrooms in it, so you're good to go!
Makes about 6 servings
Ideal slow cooker size: 4-5 quart


4 Tbsp all-purpose flour
4 Tbsp nonfat dry powdered milk
4 cups water
1 cup chicken broth
8 oz mushrooms, sliced
1/3 cup minced onion
3 garlic cloves, minced
1/2 tsp dried crushed basil leaves
1/4 tsp dried oregano
1/8 tsp ground red pepper
1/2 lb ground sausage, browned and drained
19 oz package of frozen cheese tortellini
1 (5 oz) can evaporated milk
2/3 cup Parmesan cheese
Salt and pepper, to taste


1. Add flour and and powdered milk into the bottom of your slow cooker. Whisk a bit. Slowly add in the water and broth. Whisk some more.
2. Add in mushrooms, onion, garlic, basil, oregano, red pepper and sausage. Give a little stir and cover.
3. Cook on LOW for about 4-6 hours.
4. Turn to HIGH and add in the tortellini, evaporated milk and Parmesan cheese. Cover and cook for about 60 minutes (or until tortellini are cooked through). Salt and pepper to taste and serve.
Recipe adapted from: Baking with Blondie
Review:
Yummers! My family really enjoyed this soup. My kids both love tortellini and ravioli so they will pretty much eat it in any form. The sausage gives it great flavor…it could be easily swapped out for a spicy Italian sausage if you like a little more heat. No leftovers at my house with this recipe! 4 stars.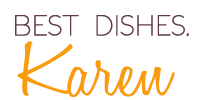 P.S. Make sure to join in all the foodie fun on Twitter, Facebook and Pinterest!