If you're looking for a meatless meal that will keep you satisfied and happy look no further. This recipe for slow cooker quinoa and black bean stuffed peppers is so so so yummy. I was so happy with how it turned out and even my meat-loving husband paid me a compliment…something like "these are better than I thought they would be." Ha ha!
There is no need to cook the quinoa beforehand and just use canned black beans, for sake of convenience. I used green peppers because that's what I had but I think it would be awesome with red bell peppers as well (or any other color you having lying around).
Recipe for Slow Cooker Quinoa and Black Bean Stuffed Peppers
Ideal slow cooker size: 6 quart
Cooking time: 3 hours on high or 5 hours on low
1/2 cup uncooked quinoa (make sure you rinse it)
2 cups salsa
3/4 tsp salt
1 tsp cumin
1 tsp garlic powder
1 (14 oz) can black beans, rinsed and drained
4 bell peppers (I used green, but you can use whatever kind you like)
Grated cheddar, for garnish, if desired
1. Halve the peppers and remove seeds and white membranes inside. Place each halve (inside side up) in the bottom of a 6 quart slow cooker.
2. In a bowl stir together the quinoa, salsa, salt, cumin, garlic powder and beans.
3. Place a scoop of quinoa mixture into each bell pepper halve.
4. Cover slow cooker and cook on HIGH for 3 hours or on LOW for about 5 hours.
5. Carefully scoop out each pepper and serve topped with grated cheese, if desired.
*You can definitely add cooked ground beef or turkey to this recipe if you want. I chose to make it meatless
*A dollop of sour cream on top of this would be awesome as well.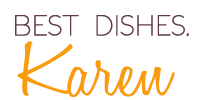 P.S. Want to see more great meatless slow cooker recipes? Check these out…


Slow Cooker Tomatillo Quinoa

Slow Cooker Easy Italian Seasoned Potatoes

Slow Cooker Mashed Cauliflower with Garlic, Olive Oil and Parmesan