A flavorful, easy chicken recipe that is the perfect dish to make for company or for your family on a boring Tuesday night. Whatever the occasion, everyone will be asking for seconds!


Makes 6 servings
Ideal slow cooker size: 3-4 quart
1/2 large onion, diced
2 large garlic cloves, minced
1 Tbsp olive oil
1 tsp dried crushed rosemary
1/2 tsp ground thyme
6-8 boneless, skinless chicken thighs (I used frozen)
Salt and pepper
2 Tbsp Dijon mustard
2 Tbsp yellow mustard
1/4 cup honey
1 Tbsp quick cooking tapioca
1. Combine onion, garlic, olive oil, rosemary and thyme in a microwave safe bowl. Microwave for 5 minutes, stirring every 90 seconds.
2. Place chicken in bottom of slow cooker and salt and pepper them.
3. Add mustards, honey and tapioca to the onion mixture. Pour over the top of the chicken.
4. Cover slow cooker and cook on LOW for 4-6 hours, or until chicken is cooked through and tender.
5. Place chicken on serving plate and top with extra sauce. (I served mine with potatoes but this would be good with a side of rice as well).


Recipe adapted from Good Life Eats


Review:
Easy recipe and totally tasty. I liked the slight sweetness from the honey and the bite from the mustard. The onions and garlic and spices boosted the flavor even more. This chicken would be yummy with some sort of rice pilaf and some greens. 4 stars.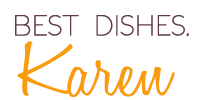 P.S. Make sure to join in all the foodie fun on Twitter, Facebook and Pinterest!