Makes 6 servings
Ideal slow cooker size: 5 quart


1 Tbsp olive oil
1 onion, diced
1 Tbsp minced garlic
1 Tbsp tomato paste
1 tsp ground thyme
1 tsp ground rosemary
8 oz sliced mushrooms
2 Tbsp yellow mustard
2 Tbsp Dijon mustard
2 Tbsp honey
1 cup chicken broth
2 Tbsp flour
6 boneless, skinless chicken thighs, trimmed of fat (you can use frozen or unfrozen)
1 Tbsp quick cooking tapioca
Salt and pepper, to taste
1. In a microwave safe bowl, combine the oil, onion, garlic, tomato paste, thyme and rosemary. Microwave for 5 minutes, stirring every 90 seconds. Transfer to slow cooker.
2. Add the mustards, honey, broth, flour and tapioca to the slow cooker. Stir a bit.
3. Add the chicken and mushrooms to the slow cooker.
4. Cover and cook on LOW for 4-6 hours for thawed chicken and 5-7 hours (depending on your slow cooker) for frozen chicken.
5. Remove lid and salt and pepper to taste. Serve chicken sliced into pieces or as whole thighs. This is a plenty saucy dish so serving this with rice, potatoes or noodles is a good idea.
Review:
I love chicken and I love mushrooms so naturally this was a yummy dinner for me personally. The mustard and honey gives it a tangy and sweet flavor. The onions, garlic and spices gives it a great depth of flavor. Everyone ate this happily. 4 stars.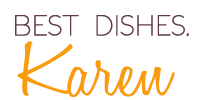 P.S. Make sure to join in all the foodie fun on Twitter, Facebook and Pinterest!