Bolognese sauce is a thick, robust sauce. It's a staple of Bologna in northern Italy. It doesn't matter which pasta you choose to serve this sauce with, it will blow your socks off!
Makes 6-8 servings
Ideal slow cooker size: 5-6 quart
1 1/2 Tbsp olive oil
1 small onion, diced
1 small carrot, finely shredded
1 celery rib, finely diced or shredded
1/2 tsp kosher salt
3 Tbsp caramelized tomato paste**
1 lb ground beef, browned and drained (you could also use ground pork or half beef and half pork)
1 cup beef broth or consomme
1 bay leaf
1/2 tsp black pepper
1 (28 oz) can crushed tomatoes
1 Tbsp sugar
1 Tbsp quick-cooking tapioca
Parmesan, for serving
Pasta, for serving
1. Heat oil in a skillet over medium-high heat. Stir in the onion, carrot, celery and salt. Cook, stirring until onion is soft (about 4 mintues). Transfer to slow cooker.
2. Add in tomato paste, beef, broth, bay leaf, pepper, tomatoes and sugar.
3. Cover and cook on LOW for 4-6 hours (you can probably cook longer if you need to).
4. Remove lid, stir, salt and pepper to taste and remove the bay leaf.
5. Serve sauce over your favorite pasta and top with Parmesan cheese.
**Caramelized tomato paste: this is a flavor booster that is amazing!!! To make just heat 1 tablespoon of olive oil in skillet, add 1 (6-oz can) of tomato paste, stir frequently and cook until deep crimson color (will reduce by approximately 1/4). Freeze extra tomato paste in one tablespoon increments for later use.


Freezer Meal instructions: Just do steps 1 and 2 (adding 1 extra tablespoon of tapioca) and place contents in a gallon size Hefty freezer slider bag. Place bag in a container that can fit in your slow cooker (so it doesn't freeze into a weird shape that won't fit in your slow cooker). Freeze. When ready to use, dump contents of bag into slow cooker and cook for about 8-10 hours on low.
Review:
This is a delicious meat sauce that has a deep and delicious flavor. I thought it was really yummy and so did my husband! I felt like it was just as good as eating at an Italian restaurant. Although there is quite a bit of work that goes into getting it together (chopping the veggies, browning the meat, sauteeing the veggies), most of this could be done ahead of time. This could even be used as a freezer meal. 4 stars.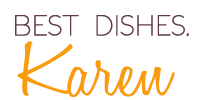 P.S. Make sure to join in all the foodie fun on Twitter, Facebook and Pinterest!