An easy, pantry-friendly recipe that can be put together in about 5 minutes!
Makes 4-6 servings
Ideal slow cooker size: 3 quart


1 (10.75 oz) can cream of chicken soup
1/2 lb boneless skinless chicken breasts or thighs
1 (14 oz) can black beans, rinsed and drained
1/2 (0.5 oz) envelope dry onion soup mix
1 1/2 tsp chili powder
1 cup water
1 (14 oz) can petite diced tomatoes
1 1/2 cups frozen corn (you can used canned…just drain it)
Grated cheddar, for serving
1. Add soup, chicken, beans, onion soup mix, chili powder, water, and tomatoes to slow cooker.
2. Cover and cook on LOW for about 4-6 hours. Remove the chicken and cut into bite-size pieces, or shred. Add back into the slow cooker.
3. Add in corn and let cook for another 15 minutes on HIGH.
4. Ladle into individual serving bowls and serve with shredded cheese.
Review:
Sometimes it's just nice to make a soup this easy. I try not to use cream of chicken soup or packets of onion soup mix, instead I usually make my own. But every now and then I love these types of recipes and so do most moms. Throw everything in and you're good to go in 4-6 hours! 3 1/2 stars.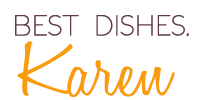 P.S. Make sure to join in all the foodie fun on Twitter, Facebook and Pinterest!