I've been seeing all sorts of really great cauliflower recipes lately and decided I needed to join in the fun with a slow cooker soup recipe! This meatless recipe is full of all sorts of flavor thanks to the onion, celery, spices and BUFFALO sauce! It's also really creamy and comforting thanks to the cheese and pureed cooked cauliflower. When my kids got home from school I was taking pictures of this soup and they literally started fighting over who got to eat the soup…kids, kids we can all enjoy the soup together! There's enough for everybody!!! I didn't know if they'd love it but they did and slurped down a bowl each!

Recipe for Slow Cooker Buffalo Cheddar Cauliflower Soup
Makes 6 servings
Ideal slow cooker size: 5 quart
Cooking time: 6-8 hours on low


1 head of cauliflower, rinsed and cut into large florets
4 cups water
1 tsp Shirley J Vegetarian Chicken Bouillon (or you can use 2 tsp regular chicken bouillon OR use 4 cups vegetable broth and omit the water)
1 cup diced yellow onion
3 minced garlic cloves
2 celery ribs, sliced into 1/2 inch pieces
1/2 tsp ground thyme
1 tsp dried rosemary leaves
1 bay leaf
3/4 tsp salt
1/4 tsp black pepper
1 Tbsp Frank's Red Hot Sauce (plus more for serving)
1 1/2 cups shredded sharp cheddar cheese (plus more for serving)
Croutons, for serving


1. Combine cauliflower florets, water, bouillon, onion, garlic, celery, thyme, rosemary and bay leaf in the slow cooker.
2. Cover and cook on LOW for about 6-8 hours, or until veggies are very soft.
3. Remove lid and discard the bay leaf.
4. Pour contents of slow cooker into a large blender and blend until smooth (or use an immersion blender right in the slow cooker to blend until creamy and smooth). Pour contents of blender back into the slow cooker.
5. Stir in salt (I used 3/4 tsp of salt but you can use less or more to taste) and pepper and 1 Tbsp hot sauce. Slowly stir in the cheese until melty.
6. Ladle into bowls and sprinkle on more hot sauce to taste. Top with a tablespoon of cheese and croutons. Eat and enjoy!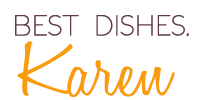 P.S. Make sure to join in all the foodie fun on Twitter, Facebook and Pinterest!