These sandwiches are so delicious! My husband said they were definitely restaurant quality. The flavors from the Dijon mustard, BBQ sauce, pepper jack cheese and banana peppers all combine for a sandwich that will blow your socks off. I loved the crusty French bread on the bottom and the ripe avocados to bring a creaminess to each bite. You could make these sandwiches with pork or beef too…whatever you prefer. I hope your family loves these just as much as I my family did! I give this recipe 5 stars!
Start with crusty French bread that's been spread with Dijon mustard, mayonnaise and minced garlic. Then top it with sliced avocado and perfectly flavored BBQ chicken that has been slow cooked. Finally, melt pepper jack cheese on top for a delicious dinner that tickles the taste buds.
Slow Cooker BBQ Chicken Open-Faced Sandwich with Pepper Jack Cheese and Avocado
Makes 10 servings
Ideal slow cooker size: 5-6 quart
Cooking time: 4-6 hours
2 lbs boneless, skinless chicken thighs, trimmed
1 packet BBQ Pulled Pork Crock-Pot Seasoning Mix
1 (6 oz) can of tomato paste
1/3 cup apple cider vinegar
1/2 cup brown sugar
1 cup water
3 Tbsp Dijon mustard
1/4 cup mayonnaise
1 Tbsp minced garlic
30 sliced banana peppers
3 Avocados
10 slices pepper jack cheese
Salt and pepper, to taste
1. Place chicken in the bottom of slow cooker.
2. In a small bowl, combine the BBQ Pulled Pork Crock-Pot Seasoning Mix, tomato paste, vinegar, brown sugar and water. Whisk until smooth. Pour mixture over the top of the chicken.
3. Cover and cook on LOW for about 4-6 hours, or until chicken is cooked through and tender. Remove chicken from slow cooker and place on a cutting board. Using 2 forks, shred the chicken
(

Or you can use your stand mixer or kitchen aid to shred the chicken. Just use the paddle attachments, place the hot meat in the mixer, and turn to medium for about 45 seconds).
4. Preheat oven to 350 degrees F. In a small bowl, stir together the mayonnaise, Dijon mustard and garlic.
5. Cut about 10 thick slices of the French bread. Place on a baking sheet lined with foil. Spread about 1 1/2 tsp of the mayo/mustard mixture on each slice of bread.
6. Top each slice of bread with several slices of avocado. Salt and pepper to taste.
7. Top avocado with a generous portion of the shredded chicken (about 1/3 cup for each slice of bread).
8. Place 3 or 5 sliced banana peppers on top of each sandwich. Finally, top each sandwich with a generous slice of pepper jack cheese.
9. Place baking sheet in the preheated oven. Bake for 10 minutes, or until cheese is melted. Serve and enjoy!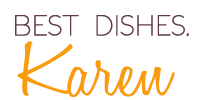 P.S. Love making chicken in your slow cooker?
Check out all of my chicken recipes here in my new visual index!