These muffins are a healthy (see nutrition facts below) bite of energy on the go! My kids have been eating these as snacks and I feel good about it because they only have 2 Tbsp of honey in the entire recipe plus protein and fiber.
The
Vi-Shape Sweet Cream Flavor Nutritional Shake Mix
is super yummy and as it says on their website, "the shake mix that tastes like a cake mix." It's true. It does. I enjoyed a glass of milk with a couple scoops mixed in this morning and it tasted yummy! Kind of like vanilla milk. It has kept me full all morning too.
Vi Shape is a protein blend nutritional supplement that is low-fat, low sodium, low-calorie, low sugar, and lower in carbs.
Makes about 15 muffins
1 1/2 cups whole wheat flour (I like to use soft white wheat) *if you're trying to eat gluten free you can substitute a different kind of flour
1 cup rolled oats
2 tsp baking powder
1/2 cup peanut butter
2 Tbsp honey
3/4 cup mashed banana
1 cup non fat Greek yogurt
1/2 cup skim milk
1. Preheat oven to 350 degrees F. Line a muffin tin with paper/foil liners.
2. In a mixing bowl, combine the flour, oats, baking powder and shake mix. Stir a bit to combine.
3. In a separate bowl, combine the peanut butter, honey, banana, Greek yogurt and milk. Whisk until combined.
4. Pour the wet ingredients into the dry ingredients and stir just until mixed. Do not over mix.
5. Scoop 1/4 cup of batter into each muffin liner.
6. Bake for about 16-20 minutes (mine took 18 minutes at somewhat high altitude).
7. Let muffins cool and then enjoy. Freeze leftovers for easy, healthy, on the go snacks.
If you're not a muffin lover, you can make these into cookies! Just scoop 1 Tbsp increments onto a parchment lined cookie sheet. Bake at 350 for 8 minutes. (I added about a 1/2 cup of chocolate chips to mine (as reflected in the nutrition info, but raisins would be fine as well). These cookies won't spread, but will stay in their little bites…which are perfectly poppable into my mouth!
Nutrition info for each 1 Tbsp cookie…
*This is a sponsored post but as always, all opinions are my own. If your business is interested in working with 365 Days of Slow Cooking, please refer to my work with me page.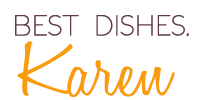 P.S. Make sure to join in all the foodie fun on Twitter, Facebook and Pinterest!